Erg Chegaga desert tours
Explore the desert, live the desert!
If during your holidays in Morocco, you wish to make a Morocco desert excursion in the Sahara, the dunes of Erg Chegaga are undoubtedly the place to visit! Erg Chegaga is known to have the largest dunes in the Moroccan Sahara. A 4X4 excursion in the desert, trekking, camel ride, quad, sandboard, activities abound. Travelers also enjoy sleeping in the Morocco desert of Erg Chegaga, in a traditional desert camp. A stay in a luxury camp at Erg Chegaga is a unique experience.
Erg Chegaga desert tour in 4X4
Leave for an Erg Chegaga excursion from M'hamid, Zagora or Ouarzazate! Morocco desert tour in 4X4. Go on the tracks of the desert, discover beautiful landscapes, meet the nomads. Overnight stay in traditional camp in Erg Chegaga. Evening with music around the fire ... During your holidays in Morocco, discover the Sahara! Several activities are available on site.
Camel ride Erg Chegaga
It's like being in a dream setting ... the dunes of Erg Chegaga rising as far as the eye can see, camels advancing at their own pace in the desert, the sunset, the colors of the clothes and the nomads' turbans, everything is there to spend a wonderful experience that will leave indelible memories. Camel ride in Erg Chegaga. Morocco desert tour.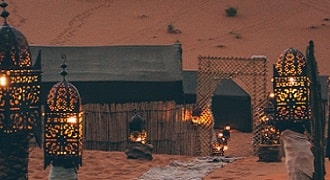 Erg Chegaga desert camp
Your excursion in the Erg Chegaga desert can be extended by one or more nights on-site, in nomadic desert camp. You will sleep in a traditional tent in the dunes of the desert ... You will enjoy the evening musical entertainment at the camp around the fire and a delicious dinner! Luxury desert camp at Erg Chegaga offers tailor-made experiences ...