4x4 Erg Chigaga desert tour
Do more than an adventure trip!
4×4 Erg Chigaga desert tour
4×4 Erg Chigaga desert tour – Morocco desert tour – Morocco Sahara excursion – Day trip to Erg Chigaga – A day Erg Chigaga tour from M'hamid
This is a 4×4 Morocco desert tour for a day.
This Morocco desert excursion starts from the village of M'hamid El Ghizlane. It's a day trip in the Sahara to the big dunes of Erg Chigaga.
If you have more time during your holidays in Morocco, this Sahara tour to the big dunes of Erg Chigaga is available from Ouarzazate and takes the form of a 2-day tour. For a Marrakech to Erg Chigaga desert trip, we recommend that you allow 3 days for a comfortable trip. You can also plan this 4×4 Morocco tour from Zagora.
4×4 Erg Chigaga desert tour from M'hamid
After meeting your driver-guide in M'hamid, you leave for this 4×4 excursion to the Erg Chigaga dunes. You will go through the village of M'hamid El Ghizlane to find the track in the desert that will take you to the largest dunes of the Moroccan Sahara in Chigaga.
On the way to Erg Chigaga, the landscapes are incredible: dunes follow desert plateaus with acacia trees.
A tea with the Sahrawi nomads gives an accent of authenticity to this 4×4 Erg Chigaga excursion in the Moroccan desert. You can learn about nomadic lifestyle and Sahrawi traditions and culture.
Lunch in an Oasis in the desert
Depending on the time, the place chosen may be an oasis in the desert that marks a meeting point for nomads.
You continue your Morocco desert tour until Erg Chigaga. You admire the high dunes that rise in front of you … You do many stops for climbing on the dunes … Take time to enjoy the silence, the sun and the Sahara.
You can enjoy a beautiful sunset in the desert. The rest of this trip in the Sahara? It's up to you to decide! A night in a Erg Chigaga desert camp and animation around a campfire or return to M'hamid El Ghizlane.
Ready for a camel ride? It is possible to enjoy it in the afternoon. You will find camels and go for a walk in the desert from about 1h - 1h30.

Quad biking in the big dunes of Erg Chigaga - Erg Chigaga dunes desert allows you to have a quad biking tour.

It is also possible to organize an excursion with sandboarding.
The distance between Zagora and Erg Chigaga is about 160 km. (about 3h30)

From M'hamid, there are about 2 hours of track in the desert to Erg Chigaga.
Erg Chigaga desert camp

Several nomadic camps are installed on-site and offer conditions for an unforgettable stay! Overnight in traditional nomadic tent. Dinner served on site. Animation with music in the evening.
For exceptional stays, it is possible to opt for a luxury camp in Erg Chigaga.
Contact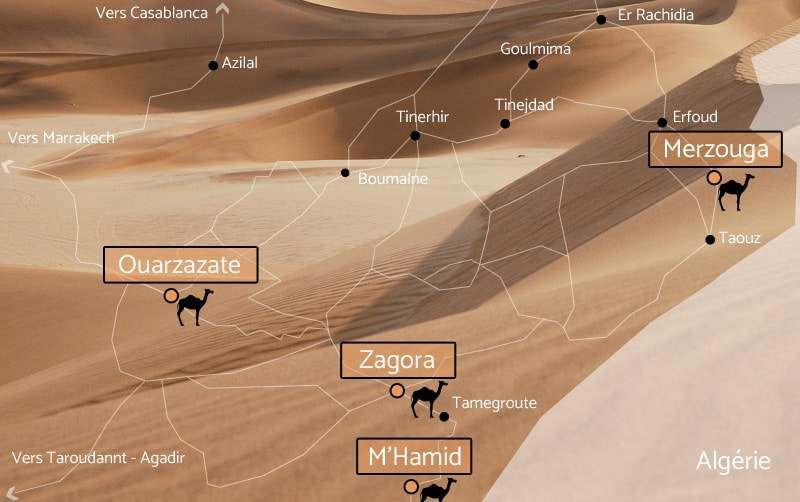 Our agency is located in M'hamid El Ghizlane, in Southern Morocco, Zagora province.
Pat: 47725024 RC 309/2809 No. IF 31832047
Message
We will be happy to answer your questions. Do not hesitate to contact us for any information related to your Morocco desert excursion tour. We will get back to you as soon as possible.
+33 628 568 405

contact@excursion-desert-maroc.com