Morocco tour from Marrakech
Marrakech - Saffron Valley - Legzira - Guelmim - Agadir - Essaouira
Marrakech Atlantic coast tour
The Marrakech Atlantic coast excursion is a great way to discover the Saffron Valley in Morocco and the beautiful beaches of the Atlantic coast. This circuit is ideal if you arrive in Marrakech and if you want the starting point to be from this city. This excursion from Marrakech can be done in summer but also throughout the year.
Morocco excursion – Marrakech excursion – Morocco sea excursion – 5 days Morocco tour – Morocco vacation – Marrakech activity
Departure from Marrakech: en route to the Safran Valley!
Your guide will pick you up from your hotel in the morning for this Morocco excursion full of discoveries.
You are leaving for the Saffron Valley. On the road, your guide will make stops to show you hidden corners, you talk about the local culture, make you discover magnificent landscapes. You take the direction of Taliouine, a small town with undeniable charm where we cultivate the "red gold" of Morocco : the saffron. You can visit local kasbahs and cooperatives where you will know more about this spice. That's not all: for dinner, taste a saffron tajine … You will spend the night in Taliouine, in a guest house. The place invites you to get away from it all and relax.
After this first night in Taliouine, you continue your Morocco tour from Marrakech near the Atlantic coast.
Direction Taroudant, a town not far from Agadir (a hundred kilometers). The city of Taroudant is one of the essential points to discover this region of Morocco. Known for its many "doors" whose architectural interest is certain, Taroudant is also worth a visit for its lively central square. You can sit there to drink tea in peace. Once the Taroudant visit is over, you leave for Mirleft where you will spend the night.
Between sea and desert: Legzira – Sidi Ifni – Guelmim – the "white beach"
After breakfast, your Morocco tour continues. You set off with your guide to discover Legzira beach. Located not far from Mirleft, this beach is pleasant to visit. Once your walk on the sand is over, you continue towards Sidi Ifni.
Sidi Ifni is a pretty town with a lively souk. You can visit it and have tea or discover its central beach. After lunch (you can taste a tagine with fish), you continue to Guelmim.
The city of Guelmim is worth a visit. It is located between the Sahara Desert and central Morocco. Guelmim is an important trading city for the Sahrawis. Our advice: venture into the alleys of the souk and let yourself be dazzled by the colors! Your Morocco excursion allows you to immerse yourself in culture and unusual discoveries.
To end the day in style, we suggest you explore the White Beach which is located near Guelmim. It is a wild beach whose color of sand recalls that of desert sand. Enjoy the sunset while listening to the sound of the waves … You will return to Mirleft for the night. Your Morocco tour from Marrakech offers you the opportunity to make great discoveries on the Atlantic coast.
Go to Agadir and Essaouira!
After the rich discoveries of the previous day, your Morocco excursion from Marrakech, will reserve others for you thanks to a day during which you will visit Agadir and Essaouira.
You leave from the beautiful seaside town of Mirleft to go to Agadir. After a tour of the city and a generous lunch, you take the direction of Essaouira.
The discovery of Essaouira is essential during your Morocco excursion on the Atlantic coast. This fortified city located on the coast will captivate you with the charm of its port, its square, its artist workshops …
For the fourth night of your Morocco tour, you will stay in Essaouira.
Argan cooperatives region
For the last day of your Marrakech tour, we will take you to visit the argan region, in the North of Essaouira. On site, discovery of the local cooperatives of argan and the region. Lunch on site.
In the afternoon, you take the direction of Marrakech. Your Morocco tour on the Atlantic coast from Marrakech ends, your guide will drop you off at your hotel.
Taliouine is "the capital of saffron" in Morocco.
You can attend the saffron harvest if you do your Morocco tour between mid-October to mid-November.
The region around Taliouine is ideal for hiking. You can customize your Morocco excursion, including a trek of a few hours or a day.
The distance between Taliouine and Taroudant is around one hundred kilometers.
You will have all day to enjoy the beautiful city of Taroudant.
Did you know that it is possible to spend a night in a wild nomadic camp near Guelmim?
We can provide this option for your Morocco tour. This overnight stay in the desert, in a nomadic camping will bring a note of adventure and authenticity to your trip.
In Guelmim, you can also visit the camel souk. It is the largest souk of dromedaries in Morocco.
You can also admire many handicrafts in Guelmim: jewelry, carpets, wooden objects ...
In Sidi Ifni, discover the fishing port and the beaches!

Essaouira is located in the argan region in Morocco.
The argan region stretches between Essaouira, Tiznit and Taroudant.
During your visit to the Essaouira region, take the opportunity to also discover the ceramic workshops and local crafts.
The Distance between Essaouira and Marrakech is around 2h30 drive.
This proximity between the two cities allows travelers to easily reach Essaouira during their stay in Marrakech. A 3-day Morocco tour to Marrakech Essaouira is also available.
Your Morocco excursion on the Atlantic coast can also start with the city of Agadir.
A 3-day circuit from Agadir allows you to visit Guelmim, the white beach, Sidi Ifni and Mirleft.
Contact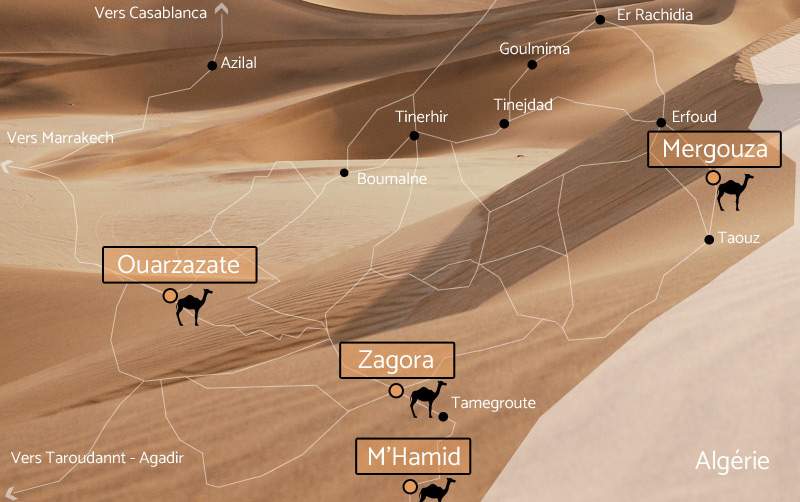 Our agency is located in M'hamid El Ghizlane, in Southern Morocco, Zagora province.
Pat: 47725024 RC 309/2809 No. IF 31832047
Message
We will be happy to answer your questions. Do not hesitate to contact us for any information related to your Morocco desert excursion tour. We will get back to you as soon as possible.
+33 628 568 405

contact@excursion-desert-maroc.com