Weekend in the desert of Marrakech
Escape in the Agafay desert for a weekend!
Weekend in the Marrakech desert
Weekend in the Marrakech desert – Marrakech desert excursion 1 night – Marrakech Agafay desert excursion – Marrakech stay – Morocco desert weekend – Week-end in Agafay
The city of Marrakech is a must-see destination in Morocco. If you are spending a vacation in Morocco and if you have decided to make a stay in Marrakech, several activities are available to you. In addition to the activities in the city, you can take advantage to discover the surroundings of Marrakech and in particular, its desert. The Agafay Desert is located near Marrakech, about 30 km. So you can get there very easily.
Discover the Marrakech desert for a weekend
For this Marrakech desert excursion with an overnight stay, we offer the following services:
transport between Marrakech and the Agafay desert,
camel ride (1h) to visit the desert of Marrakech,
overnight in a desert camp (choice between classic accommodation or Agafay luxury desert camp),
meals (breakfasts, lunches, dinners);
Weekend in Agafay: two days of discovery and well-being
The desert of Marrakech is a very beautiful natural site that is worth a visit. Marrakech is a lush oasis with its palm grove which extends over several hectares but which can also surprise with, in its surroundings, this rocky desert plateau. Behind are the High Atlas mountains.
During a stay in the Agafay desert, one can walk, enjoy the calm, simply admire the view and listen to the silence.
What activities for a weekend in the Marrakech desert?
You can enjoy the following activities:
yoga and meditation,
horse ride,
biking (with or without guide),
quad,
buggy,
visit a typical village,
massage and treatments,
astronomy session;
Excursion tour Marrakech desert 1 night

Marrakech desert weekend (2 days, 1 night)

Marrakech - Agafay desert: between 30min and 45 min driving

Round trip transport Marrakech - Agafay desert included in the formula.

Your driver-guide will pick you up at your hotel.
The Marrakech desert weekend is a formula that is ideal for a family holiday.

Do you want to mark a special event?
Birthday, family celebration, wedding anniversary, romantic weekend ... We can organize it together.

Some of the complementary activities are only offered in the Agafay luxury camps.

Weekend in the Marrakech desert: stay in a luxury camp.

Enjoy an exceptional weekend between charm and luxury. Tents rich decorated, tasting menus, swimming pool ...

Enter an oriental dream for a weekend.

Experience a walk in the Agafay desert, a stargazing moment, a dinner under a private tent, a 4x4 visit of the Marrakech desert and the Atlas mountains.
Contact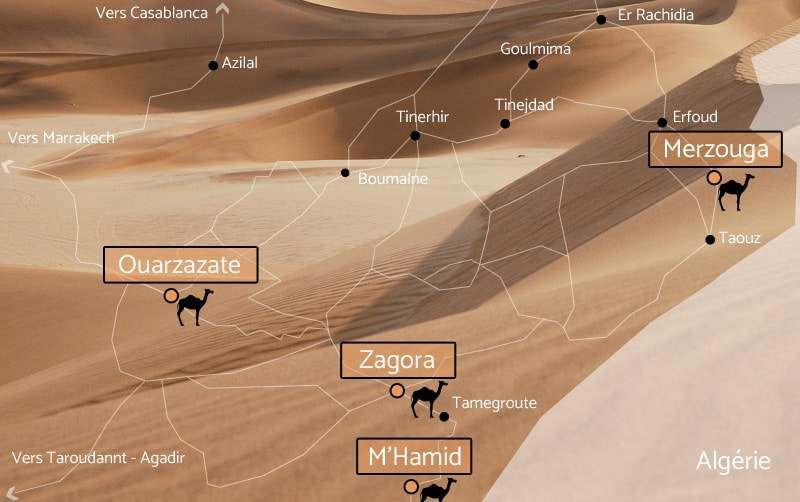 Our agency is located in M'hamid El Ghizlane, in Southern Morocco, Zagora province.
Pat: 47725024 RC 309/2809 No. IF 31832047
Message
We will be happy to answer your questions. Do not hesitate to contact us for any information related to your Morocco desert excursion tour. We will get back to you as soon as possible.
+33 628 568 405

contact@excursion-desert-maroc.com