New Year's Eve in the Morocco desert
An unforgettable Morocco New Year's Eve in the heart of the Sahara dunes
Morocco new year's eve in the Sahara
New Year's Eve Morocco – New year's eve Morocco desert – New years eve Sahara camp – Original New years eve Morocco
The departure for this New Year's Eve Morocco can be made of:
M'hamid if you have your own transport or if you prefer public transport,
but also from Ouarzazate, Marrakech or Agadir with a private transfer organized by us,
if you want to rent a car, contact us.
The duration of the New Years' Eve program in the Morocco desert camp depends on your wishes.
It is possible to arrive on the day of December 31th in our Sahara desert camp at M'hamid and plan a departure the next day.
New Year's Eve in the Moroccan desert can also be an opportunity for you to take advantage of this event to discover more of the desert, by taking a 4×4 Chegaga excursion, going for a day camel excursion tour or enjoying a few days of Morocco desert trekking in the Sahara.
It will be a personalized and tailor-made Morocco desert trip to the Sahara.
New Year's Eve in a camp at M'hamid can be part of a Morocco desert tour from Marrakech, Ouarzazate, Agadir or another city.
New Year's Eve Morocco desert
December 31, 2021: arrival in a Sahara desert camp at Mhamid El Ghizlane
After a tea and lunch (if you arrive before noon), you go for a camel ride of about two hours to discover the desert landscape.
To end the year in style, in the late afternoon, you will enjoy the last sunset of 2020 on the dunes.
We then offer you a delicious New Year menu with a choice of dishes. The meal is prepared on the spot.
For the rest of the program: dinner around the fire during a folklore evening with a band from the village of Mhamid (traditional Saharawi music). Overnight in nomadic tents equipped, in our M'hamid desert camp.
January 1, 2022: New Year in Morocco
If you leave Ouarzazate with a private transfer:
In the morning of December 31, 2021, you will take the road with your guide to go down in the Moroccan desert. Stops for visits are planned in Agdz and Zagora. Arrival at M'hamid at lunchtime. The day after the New Year's Eve in the Moroccan desert, on January 1st, you will leave with your guide after breakfast. Lunch on the road before arriving in Ouarzazate in the afternoon. For this formula, thank you to contact us.
Possibility to extend your New Year's excursion in the Moroccan desert with a discovery of Erg Chegaga in 4X4.

We can organize a trip to the Sahara for the New Year's Eve 2020 from the major cities. You also have to customize your Morocco desert tour program and enjoy a complete Sahara desert tour including New Year's Eve in a desert camp.
Morocco desert tour for the New Year's Eve from Marrakech:

If you make a departure with transfer from Marrakech, we offer a program on 3 days from December 30, 2020. The first day is dedicated to the trip between Marrakech and Agdz with visits of the Kasbahs Ait Ben Haddou and Telouet. Overnight in Agdz.
On the 2nd day, you will continue your journey between Agdz to M'hamid for the New Year's Eve desert Morocco. On the last day, you leave M'hamid to Marrakech.
During your Sahara stay in Morocco:
Sandboarding (Mhamid, Erg Chigaga), quad biking, Henna
And also...African percussion workshop, Culinary classes

Private transport could be organized from Agadir as part of a 3-day Morocco desert trip with overnight stay also at Erg Chegaga.
Contact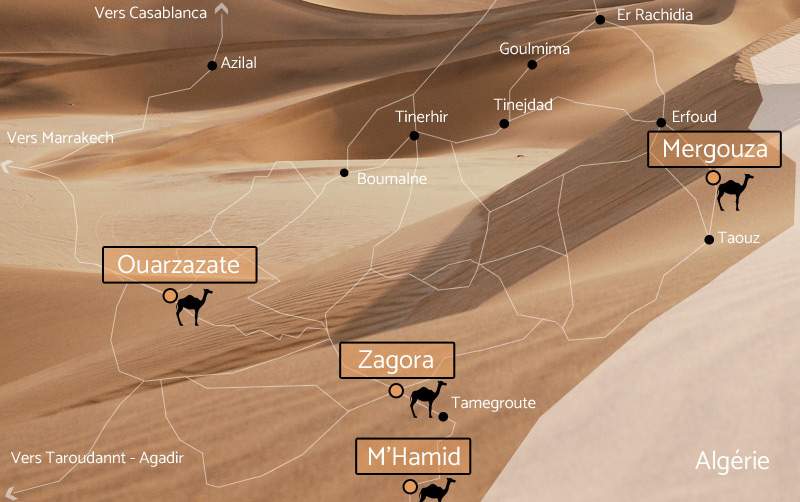 Our agency is located in M'hamid El Ghizlane, in Southern Morocco, Zagora province.
Pat: 47725024 RC 309/2809 No. IF 31832047
Message
We will be happy to answer your questions. Do not hesitate to contact us for any information related to your Morocco desert excursion tour. We will get back to you as soon as possible.
+33 628 568 405

contact@excursion-desert-maroc.com