Yoga Morocco desert
Yoga retreat in the Sahara, meditation
Yoga Morocco desert
Yoga Morocco – yoga Sahara Morocco – yoga holidays Morocco desert – yoga, meditation, and well-being Morocco, yoga in the desert
The desert is a natural site particularly suitable for the practice of yoga.
The desert invites us to find harmony between mind and body, introspection, meditation. The Sahara, with its breathtaking landscapes, its beauty, its immensity, offers a dream trip to meet with oneself.
The yoga workshop in the Moroccan desert allows you to completely disconnect from everyday life and to recharge your batteries, to regain physical and mental well-being. Combining a unique experience with a spiritual journey, yoga classes are led by qualified and qualified professionals.
The Morocco desert yoga course includes yoga practice, meditation, and relaxation, walking in the desert and time for free activities.
So, if you are looking for yoga in Morocco, the yoga in the desert is a unique experience. The yoga holidays are planned in our Sahara camp. Our Morocco desert camp is located at M'hamid El Ghizlane.
During the 7-day yoga workshop, the focus is on:
general well-being,
the control of the breathing,
physical and mental fitness with adapted yoga postures and exercises,
flexibility and work of the muscles,
the elimination of stress,
the awakening of the senses,
introspection;
We ensure the transfer from the arrival city to our Morocco desert camp in the Sahara.
The course includes yoga / meditation, bivouac with full board, a camel ride and a day of picnic in the Sahara. Animation with traditional Saharawi music.
To receive the full programs of the two sessions of yoga workshop in the desert, please contact us.
Our courses are open to both beginners and experienced.

Relaxation, meditation, healing ...
Yoga holidays in the Sahara, camel trekking - Practice yoga in the Moroccan desert for a week.
Yoga retreat Morocco desert: individual or group practice in a Sahara desert camp
A person who wishes to make a stay in our Morocco desert camp at M'hamid El Ghizlane, can benefit from yoga sessions individually or in a small group. Do not hesitate to let us know if you would like us to include this activity in your Sahara camp stay. Yoga courses in the Sahara are provided by a licensed and experienced teacher.
If you are a small group of friends, it is also possible to organize a yoga retreat in the desert.
We regularly work on organized yoga holidays in the Sahara and mixed yoga and trekking classes in the Morocco desert.
Contact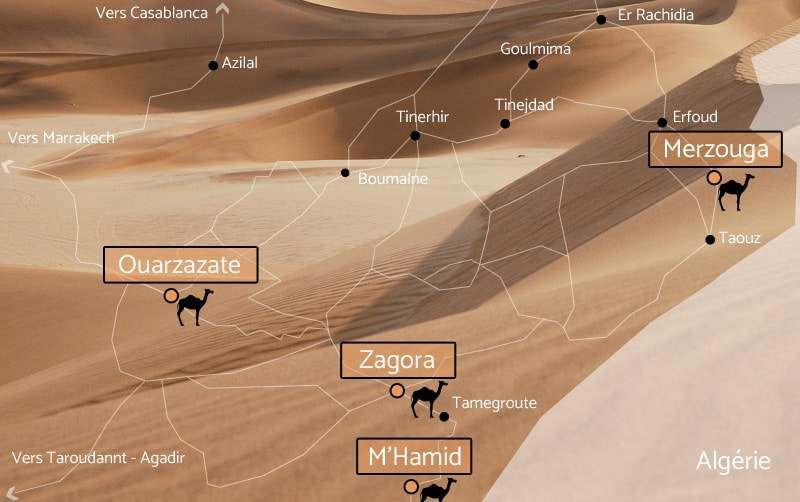 Our agency is located in M'hamid El Ghizlane, in Southern Morocco, Zagora province.
Pat: 47725024 RC 309/2809 No. IF 31832047
Message
We will be happy to answer your questions. Do not hesitate to contact us for any information related to your Morocco desert excursion tour. We will get back to you as soon as possible.
+33 628 568 405

contact@excursion-desert-maroc.com