Ouarzazate to Tinfou dunes tour
Morocco desert tour - visit the beautiful Draa Valley and Zagora
Ouarzazate to Tinfou dunes tour
Ouarzazate to Tinfou dunes tour – 4×4 Ouarzazate desert tour – Morocco day trip – 4×4 Morocco desert tour – Day tour from Ouarzazate – Ouarzazate to Zagora trip – Desert tour from Ouarzazate
During your stay in Morocco, go for a 4×4 Ouarzazate desert tour.
With your guide, you take the direction of Zagora where are the first dunes of the Moroccan desert.
Let's discover the program of the Ouarzazate to Tinfou dunes tour.
Discover The Draa Valley from Ouarzazate
Your journey from Ouarzazate to Tinfou dunes takes approximately 3 hours.
The Ouarzazate desert excursion will be punctuated by stops in the beautiful Draa Valley.
The Draa Valley is known for its palm grove where we grow date palms and fortified villages typical of southern Morocco. So you will stop to visit places as the Kasbah in Tamnougalt, the village of Agdz and enjoy panoramic views on the palm grove.
The time you take to to arrive at Tinfou dunes near to Zagora is relativly short and the route allows the discovery of the beautiful landscapes on the palm grove of the Drâa Valley and small Berber villages.
The dunes of the Moroccan Sahara start near Zagora. This Ouarzazate desert tour will bring you near to Zagora for lunch time.
Camel ride in Tinfou dunes
After lunch, you will enjoy a camel ride in the dunes of Tinfou. The camel ride lasts about one hour.
When you will be back from the camel ride, you will take a tea with nomads before starting the road back to Ouarzazate. Your Morocco desert tour from Ouarzazate to Tinfou dunes ends in the afternoon when you arrive in Ouarzazate. Your guide brings you back to your hotel or Riad.
Merzouga, M'hamid or Zagora to discover the Moroccan desert?
If you have enough time during your holidays in Morocco, we recommend that you go down even further in the Sahara. You will discover the desert in its full extent in Merzouga or M'hamid.
An Ouarzazate to Merzouga desert tour or a M'hamid desert trip from Ouarzazate is then possible.
The city of Ouarzazate is an old meeting point for sub-Saharan caravans that came from black Africa and continued to Marrakech or Fez.
Ouarzazate to Tinfou dunes tour for a day.
Departure in the morning and return in the end of the afternoon.

Departure: 8 AM - 9 AM

The distance between Ouarzazate and Zagora is about 160 km, that means about 3 hours trip.

Your guide will pick you in the morning up at your hotel.
You can enjoy a night in a Zagora desert camp.

Our advice: if you want to discover more the Moroccan desert, we invite you to go either to M'hamid or to Merzouga. Both are accessible from Ouarzazate.
There is a 2-day Ouarzazate Merzouga trip and a desert tour to M'hamid.

Ouarzazate - M'hamid: 257 km (4h30)
Ouarzazate - Merzouga: 359 km (5h30)

Given the travel time, you can plan a night on the spot, in the dunes of the desert, in a Morocco desert camp.
What to do in Ouarzazate?
Several choices are available to you for activities in Ouarzazate, especially with regard to excursions (Anti-Atlas, Rose Valley, oasis, desert, ...) like quad biking, hike in the Valley of Roses, visits of the Oases, camel ride, ...
Contact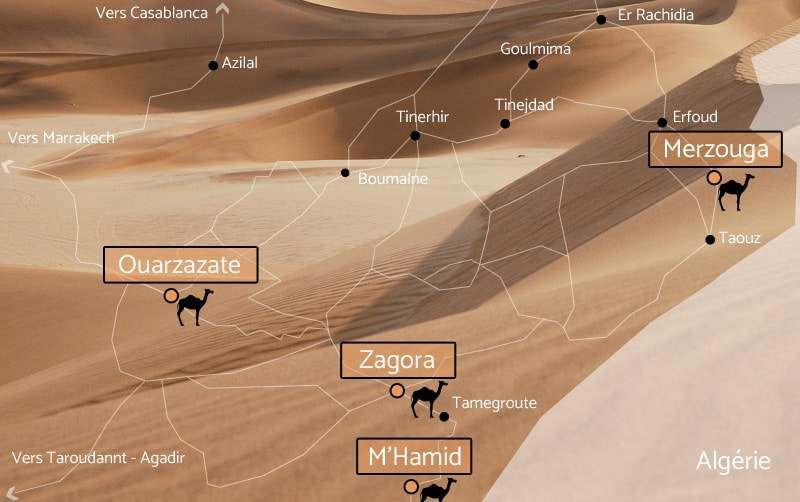 Our agency is located in M'hamid El Ghizlane, in Southern Morocco, Zagora province.
Pat: 47725024 RC 309/2809 No. IF 31832047
Message
We will be happy to answer your questions. Do not hesitate to contact us for any information related to your Morocco desert excursion tour. We will get back to you as soon as possible.
+33 628 568 405

contact@excursion-desert-maroc.com