Sahara trip from Agadir
Agadir to Erg Chigaga desert excursion tour
Agadir to Erg Chigaga tour 3 days
Agadir to Erg Chigaga tour 3 days – Morocco desert tour from Agadir – Morocco Sahara trip – Travel to Morocco desert – Agadir desert tour – 3-day Agadir to Erg Chigaga tout
Discover Taroudant and Taliouine. After Foum Zguid, the desert dunes appear…
Agadir to Erg Chigaga tour : the program
Taroudant is a Moroccan city located in the southwest of the country. The city of Taroudant is visited by travelers for several reasons. The first reason is undoubtedly the famous ramparts that surround the city and which offer an original and exotic architectural framework. These walls extend over 6 kilometers in length and have 130 towers. In this "citadel", you can enter through 9 doors of Moorish architecture. The Medina of Taroudant is also worth a visit as well as its craft market.
You will then pass by Taliouine. It is a city located in the province of Taroudant. Saffron is grown there. The landscapes are magnificent and the city is worth a stop. You will stop for lunch.
Then you continue the road via Tazenakht. (about 85km) You will stop to visit the carpet cooperative. Your journey to the Moroccan desert continues.
You then arrive at Foum Zguid. You continue to arrive at the end of the day in the dunes of Erg Chegaga. Installation in a traditional camp, dinner and overnight stay on site.
Enjoy the great dunes of Erg Chigaga
The 2nd day of this Morocco desert tour from Agadir is devoted to a day in the Moroccan desert. After breakfast at the nomadic camp, you have free time to relax, walk in the desert, climb the dunes of Erg Chigaga. The Erg Chigaga's dunes are one of the highest in the Moroccan Sahara.
In the afternoon, you set off on a camel ride. You enjoy the sunset before returning to the Erg Chigaga desert camp. You will enjoy another night in the Sahara desert.
Visit of Lake Iriqui, then return back to Agadir
On your way back, you will visit Lake Iriqui which is nowadays dry but which is distinguished from a rich fauna (several species of birds). After Lake Iriqui, you take the road to Foum Zguid and then Agadir.
Your Morocco desert tour will take you on the way back. You will arrive in Agadir at the end of the day after spending a good trip with many stops on the road to discover new places and beautiful landscapes.
On the day of your return, we can schedule a tea break in a Kasbah with a local family.
Morocco Sahara tour from Agadir: departure in the morning between 8:30 a.m. and 9 a.m. Your guide will pick you up from your hotel for this Agadir desert excursion.

The distance between Agadir and Taroudant is about 80 km, so you will have around 1hour to 1 hour and half of a journey.

Taroudant - Taliouine: 100 km (1h30)
It is also possible to plan other activities in the Erg Chegaga desert like a quad biking or sandboard.

This Agadir desert excursion allows you to make the most of a day in the desert at your own pace. You will also spend two nights in the Sahara, in a traditional nomadic camp. Enjoy the Sahrawi music! (optional overnight stay in an Erg Chegaga luxury camp).

Next to Lake Iriqui is the Iriqui National Park, created in 1994. It is a desert environment park, the flora is represented by tamarisks, acacias.

Idea: make this Agadir tour over 4 days.
It is possible to plan an additional overnight stay mid-way for a more comfortable trip.
Contact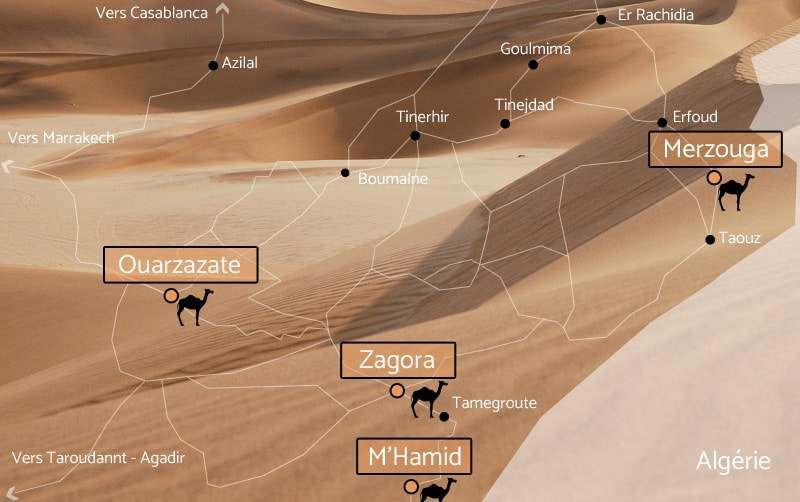 Our agency is located in M'hamid El Ghizlane, in Southern Morocco, Zagora province.
Pat: 47725024 RC 309/2809 No. IF 31832047
Message
We will be happy to answer your questions. Do not hesitate to contact us for any information related to your Morocco desert excursion tour. We will get back to you as soon as possible.
+33 628 568 405

contact@excursion-desert-maroc.com