Merzouga desert tours
Live the adventure of a day in the Sahara!
In Merzouga or Erg Chebbi, you are on the highest dunes of the Moroccan Sahara! Take advantage of a Morocco desert excursion to discover the beauty of the Sahara, its dunes, one of the most magnificent sunsets! The Merzouga desert, very frequented by travelers, offers a range of desert tours in the Sahara: camel ride, sandboarding or discovery of Erg Chebbi in 4X4. You can also go quad biking in Merzouga or a hike in the Morocco desert. Let us organize your tailor-made Merzouga deseert tour! One or more nights in a camp in Merzouga will make your Morocco desert tour unforgettable. Whether you are traveling with family, friends, or alone, Erg Chebbi is undoubtedly one of the most remarkable places in the Moroccan Sahara. Adventure, discovery and authenticity await you. Discover our desert excursion programs to visit Erg Chebbi or Merzouga desert tours from Marrakech, Fez or Ouarzazate.
Merzouga desert tour programs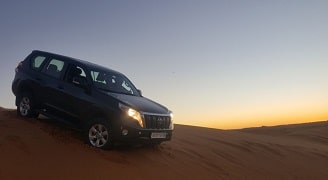 Merzouga desert tour 4X4
Excursion in the Morocco desert of a day. Merzouga excursion in 4X4. Erg Chebbi excursion. Discover the Sahara during your stay in Morocco.
Merzouga is an unavoidable destination in the Moroccan desert. The excursion in 4X4 allows discovering the big dunes of Erg Chebbi. A longer stay in Erg Chebbi can be organized, as well as an excursion with several activities!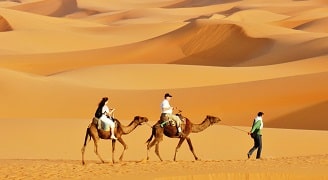 Merzouga camel desert tour
Do you want to enjoy a camel ride during your holidays in Morocco? Nothing better than going to the Sahara for an exotic and authentic experience! We propose an excursion to Merzouga with a camel ride in the Moroccan desert. This day trip to the Sahara can be extended by a night in a Merzouga desert camp. Morocco desert excursion for a day. Merzouga camel riding.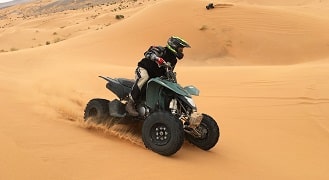 Merzouga quad biking
This one-day Merzouga excursion allows you to try quad biking in the big Erg Chebbi dunes! To discover Erg Chebbi during your holidays in Morocco, enjoy this quad tour in the Moroccan desert. Merzouga is one of the places in the Moroccan Sahara to practice the quad. Activity to practice with family or friends! Also, enjoy your stay in Merzouga to sleep in a traditional desert camp.
Fez Merzouga tour
We offer a Morocco desert tour from Fez to Merzouga. This is a 3 day Morocco desert tour. Several visits on the way. Camel ride and night in a desert camp in Merzouga. The return can be expected in Fez or Marrakech! Enjoy your holidays in Morocco to visit the Sahara, meet the nomads and sleep in the desert! Overnight in Erg Chebbi, traditional bivouac or Merzouga luxury desert camp.
Merzouga camel trek 3 days
This 3-day Merzouga desert tour takes the form of a camel ride in the Morocco desert. The Sahara trekking is ideal for exploring the desert on foot and camel, sleeping under the stars, meeting the nomads and learning more about their culture. You will walk along the dunes of Erg Chebbi during a journey of adventure and change of scenery guaranteed!
Merzouga desert camp
You want to spend a night in Merzouga, sleeping in the Moroccan desert ... At Erg Chebbi, the choice of accommodation is not lacking! However, sleeping in a nomadic camp in Merzouga remains the preferred option of travelers. Night in an ordinary traditional tent or luxury desert camp at Erg Chebbi, it's up to you!
Merzouga: discover the dunes of Erg Chebbi
Merzouga or Erg Chebbi: the place of the Moroccan Sahara best known by travelers! If Erg Chebbi is very visited for its beautiful dunes, some of which are 150m high, it extends over an area of ​​around thirty kilometers in length and 8 km in width. Merzouga is located in the southeast of Morocco, after the cities of Errachidia and Rissani. Merzouga is the village that is the gateway to Erg Chebbi. It is not the only one, because travelers can go through other places: Tanamoust or Takoujt but Merzouga, a small village in the middle of the sands, is the most touristic. This is why we speak most often of the "Merzouga desert" in the same way as Erg Chebbi. As the name suggests, the Sahara is represented here by very tall dunes of dazzling color. The Merzouga experience is one of the most popular for visitors. In addition to admiring the high dunes, to climb on it, watching the sunset, doing a camel ride or sandboarding, the excursion to Merzouga is also a discovery of the way of nomadic life and culture. You can enjoy a night with musical entertainment around the fire in a traditional bivouac at Erg Chebbi or try a luxury camp experience in Merzouga.
---
What activity during your Merzouga desert tour? What to do in Merzouga?
During your Merzouga excursion, you can simply decide to admire the Sahara and enjoy the time you will spend in this beautiful place. For those who want to do activities in Merzouga, here are some ideas.
Camel ride in Merzouga
It is one of the classic and most practiced activities on a Morocco desert tour or excursion (whether you spend a few days in Merzouga, Erg Chegaga or M'hamid). If you take an excursion or an organized circuit, the camel ride is included in the program. The camel ride in Merzouga is done in the evening for the sunset but you can request a ride during the sunrise. The spectacle of light that is reflected on the dunes is wonderful!
Sandboarding at Erg Chebbi
Here is an activity that will delight the curious! To practice rather at the end of the day. The high dunes of Erg Chebbi offer perfect conditions for sandboarding.
Quad in Merzouga
During your excursion to Erg Chebbi, try the quad! It's a different way to discover the beautiful landscapes of the Sahara. Quad biking is one of the activities you can do during your stay in Merzouga.
4X4 Merzouga tour
This excursion is recommended for those who love thrills! Especially when crossing Erg Moulay Omar or Erg Znigui. Thanks to this Morocco desert tour, you can experience a moment of exchange around traditional tea with the local nomadic population.
Merzouga trekking tours
Another activity to practice in Erg Chebbi: a camel trekking in the Sahara. The Merzouga trek is relatively short. Most of the time, it is a matter of leaving for 3 days in the Moroccan desert.
---
How to get from Marrakech to Merzouga?
If you want to get to Merzouga from Marrakech, it takes 10 hours by car. This is the reason why, for your comfort, it is better to consider a Marrakech Merzouga tour for 3 days minimum. The route between Marrakech and Erg Chebbi offers many discoveries in terms of landscapes, Kasbahs, typical villages.
From Fez to Merzouga?
The journey from Fez to Merzouga is also relatively long: around 8 hours by road. For a Fez Merzouga desert tour, it is also better to plan a minimum of 3 days of trip. If you opt for an organized Fez Merzouga excursion, several visits on the route are planned and make the excursion even more rich in discoveries – you will pass by Azrou, Midelt, Errachidia. On this journey, you will have the chance to see an impressive change of scenery – greenery and snow-capped peaks of the Middle Atlas will give way to more arid places and finally to the dunes of the Sahara…
How to get from Ouarzazate to Merzouga?
The Ouarzazate Merzouga tour is the shortest in terms of journey. It can be done in 5 hours. Ouarzazate makes it possible to go almost for the same duration to Erg Chebbi and Erg Chigaga. You can go on a 2-day Ouarzazate Merzouga excursion trip.
---
What Merzouga tour to discover the Moroccan desert?
There is no single answer to this question! It all depends on your desire: is it to go to the desert to see the place and sleep in a nomadic camp? or do you want to take advantage of a visit to Merzouga for a few days to do activities and explore the surroundings?
---
What is the closest airport to Merzouga?
If you have planned a vacation in the Moroccan desert, to avoid long journeys, you can check whether an arrival at Errachidia airport is possible.
---
What weather in Merzouga? What weather in Erg Chebbi?
Temperature Merzouga December, January, February: minimum 4°-6°, maximum 18° to 21°,
Weather in Merzouga in March / April: minimum: 9°/13° and maximum: 24°/28°,
Temperatures in May / June: minimum 17°/21°, maximum: 34°/39°,
Temperatures at Erg Chebbi in July / August: minimum 27°, maximum 42°,
September, October, November: minimum – 19°/15°/10° and maximum 35°/30°/23°;
---
When is the best time for an Erg Chebbi desert excursion?
For a Merzouga desert tour, it is better to favor the period from September to June.
During the months of July and August, temperatures in Erg Chebbi are high (up to 43° and 44°).
---
Where to sleep in Merzouga?
For your accommodation in Merzouga you have a big choice. On site, there are riads, hotels and nomadic camps. You also have the choice between a classic desert camping or a luxury camp in Merzouga, a little further in the dunes of Erg Chebbi.
---
What to see around Erg Chebbi?
During your Merzouga desert tour, you can take the opportunity to discover the surroundings that are well worth the detour. Here are some places you can visit during a Merzouga tour or during your trip in the Moroccan desert.
Dayet Srij Lake: It's amazing visit Dayet Srij Lake to observe the many migratory birds. During the dry period, the lake becomes a swamp. It is therefore best to visit it in September.
Khamlia: Still near Erg Chebbi, the village of Khamlia offers you the opportunity to go to the "Maison des Gnawas" to discover Gnawa music which is a mixture of traditional music and African percussions. Note that every year the International Merzouga Festival of World Music is held.
Rissani: On the road to Rissani, the fossil and mineral museum is worth a stop. Once in Rissani, go and discover its souk (Tuesday, Thursday, Sunday). It is one of the busiest markets in the region.
Erfoud: in addition to being the capital of the date in Morocco (celebrated in October), the city is known for the extraction and polishing of fossils. Several quarries are found in the surroundings of Erfoud.
Taouz: Very close to Taouz, you can discover rock carvings which date from the prehistoric period.