M'hamid desert trips
The desert can not be told, here are some excursions to live it!
M'hamid desert tour: Go on a Morocco camel desert trip and admire the sunset in the Sahara. Taste the tea prepared by Saharawi nomads, listen to traditional music around the fire in a traditional nomadic camp, share a delicious meal and look at the stars … all these stars shining a thousand lights over the captivating, the magic, the only Sahara!
Read more
During your holidays in Morocco, enjoy a Morocco desert tour. M'hamid El Ghizlane, whose name means "the plain of gazelles" is, like Merzouga, one of the gateways to the Sahara. The village of M'hamid is located further South. Discover our Morocco desert tours from M'hamid and let yourself be tempted by the adventure! In M'hamid El Ghizlane, you can do a camel excursion Morocco, a camel trek or a Morocco Sahara desert tour including overnights in a Morocco desert camp.
Visit of the 6 Kasbahs of the Oasis
Morocco desert trip from M'hamid for a day. Visit the Kasbahs around M'hamid. The village is the last Oasis in the Drâa Valley. Visit the palm grove of M'hamid. Tea among the inhabitants of the palm grove. Morocco Sahara desert tour.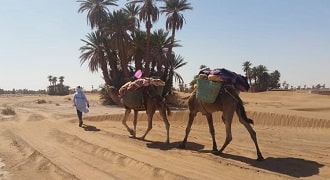 Camel ride in M'hamid
Go for a Morocco day excursion of the discovery of the Sahara with camels. This Morocco desert tour starts from the village of M'hamid. Morocco camel riding. Stay in Morocco. Sahara Excursion. Best Morocco desert tours.
Erg Chegaga excursion 4X4
Morocco desert excursion Erg Chegaga 4X4. Departure in the morning of M'hamid. Discover the largest dunes in the Morocco desert. Camel ride in Erg Chegaga. Sunset in the desert.