The Valley of Roses excursion tour
Visit the Valley of Roses and the Dades Gorges from Ouarzazate
Ouarzazate the Valley of Roses day tour
Ouarzazate the Valley of roses day tour – Day trip from Ouarzazate – Ouarzazate excursion to the Valley of roses – South Morocco day tour
One day visit of the Valley of roses
Departure for this Ouarzazate the Valley of roses day tour is done in the morning. Your guide will pick you up from your hotel.
The Ouarzazate region is also known for the Valley of the Roses which is nearby. The Valley of the Roses is located between the Valley of M'Goun named after the Oued which crosses it and the Valley of Boulmane Dadès. On the side, we admire the Djbel M'Goun with its ocher nuances that contrast with the green of the Valley.
The Valley of roses is also made up of adobe Kasbahs, gardens invisible to the eye of the passer-by, in which the Moroccan rose is cultivated, which gives its fragrance notes to many perfumes and cosmetic products. Roses but also fruit trees, vines, and palm trees characterize this Valley. Oued Dadès is the source of water for all these crops.
The itinerary of this Ouarzazate day tour to the Valley of roses will make you discover one of the most beautiful Valleys in Morocco:
you will pass by the Oasis of Skoura. It is an Oasis still inhabited and cultivated. The Kasbahs of the Oasis and its beautiful palm grove are worth a visit.
you take the road in 4X4. You arrive at the village of Kelaa M'Gouna. This is where the Festival of the rose is celebrated every year at the end of May.
you continue on a track which will take you across the Valley of roses, visits on spot,
then you drive to the Dades Gorges. Discovery and walk at the foot of the Dades Gorges.
In the afternoon, you take the way back. Your guide will drop you off at Ouarzazate at the end of the day.
One day trip from Ouarzazate to the Valley of roses. Visit also the Dades Gorges.

During your Ouarzazate excursion tour to the Valley of the Roses, enjoy tea with a local family or a lunch.
You can also discover the Valley of the Roses thanks to an excursion trekking tour.

We can easily customize the program depending on your wishes. Contact us.
And why not enjoy a moment of relaxing and well-being during this Ouarzazate excursion tour?

Let's plan a rose treatment, rose oil massage and henna.

Don't forget to take a bottle of rose water as a souvenir of this Ouarzazate excursion trip!
Contact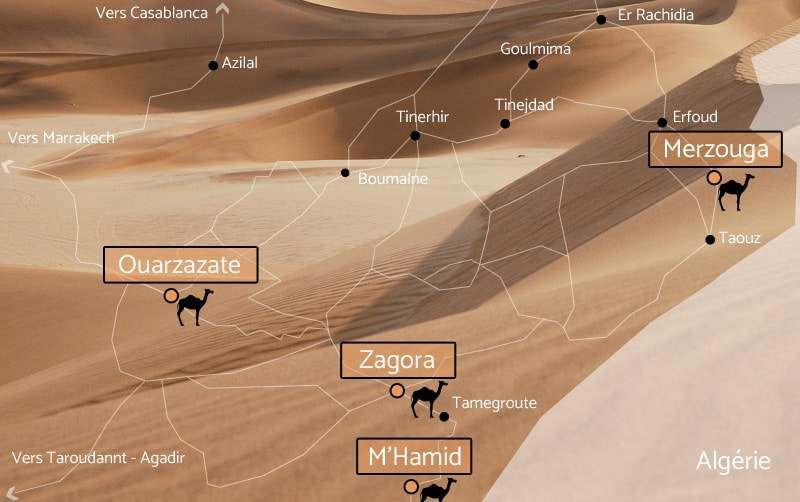 Our agency is located in M'hamid El Ghizlane, in Southern Morocco, Zagora province.
Pat: 47725024 RC 309/2809 No. IF 31832047
Message
We will be happy to answer your questions. Do not hesitate to contact us for any information related to your Morocco desert excursion tour. We will get back to you as soon as possible.
+33 628 568 405

contact@excursion-desert-maroc.com