3 Valleys day tour
Marrakech day trip
3 Valleys day tour from Marrakech
3 Valleys day tour from Marrakech – Marrakech day trip – Day tour from Marrakech to the 3 Valleys – visit the surroundings of Marrakech – day excursion tour from Marrakech
The 3 Valleys day tour from Marrakech is an idea of ​​activity during your stay in Marrakech. If you plan holidays in Morocco, discover the valleys of the Marrakech region. The proximity of these Valleys to the pink city makes it possible to visit them during a full day trip from Marrakech.
Discover the Ourika Valley
The first step of this day trip from Marrakech is the visit of the Ourika Valley. After picking up from your hotel, you head towards the High Atlas Mountains. You cross several small villages on the road to Ourika. The landscapes in the mountains are worth the detour. The colors change during the trip. The Ourika Valley stretches around the Ourika River which has its source in the High Atlas. The landscapes are picturesque and green. During this day excursion from Marrakech, you will have the opportunity to discover the Berber culture over a cup of tea and discover the small village Setti Fatma which has a lot of charm.
3 Valleys day tour from Marrakech: Sidi Fares
Once the visit of the Valley of Ourika is finished, you leave for the Valley of Sidi Farès before end your Marrakech excursion by the Valley of Asni. The Valley of Sidi Farès is known for its apple trees and other fruit trees. It is a region where the magnificent landscapes also make you admire the small Berber villages. Lunch on site, with a breathtaking view of the Atlas. Taste local cuisine and Berber culture thanks to this moment of conviviality. Your Marrakech 3 Valleys day trip continues with a visit to the Asni Valley.
Visit of the Asni Valley
During this day excursion from Marrakech, you will also discover the Asni Valley. It is a very beautiful valley full of orchards. From here you can see Mount Toubkal, the highest peak of the Moroccan Atlas and all of North Africa (4,167m above sea level).
Marrakech day trip
This excursion can be practiced all year round.
Departure at 9 AM.
Departures are guaranteed every day.
4x4 Marrakech day trip to the 3 Valleys (or minibus).
The driver-guide will show you the beautiful panoramic views.
Stops are planned during this Marrakech excursion.
You can enjoy lunch with a Berber family.

The journey between Marrakech and the Ourika Valley takes between 40 minutes and 1 hour. (about 30 km)

The distance between the Asni Valley and Marrakech is about 50km, or about 1h20 driving.
Camel ride (1h) could be a good option for this Marrakech day tour.


Contact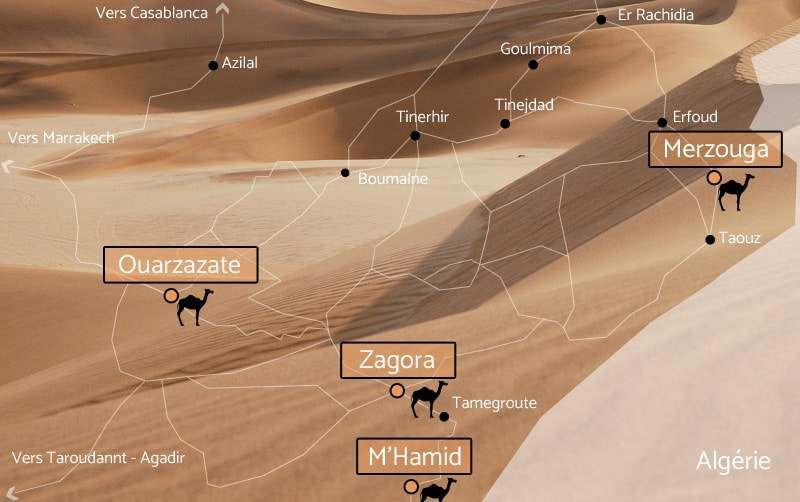 Our agency is located in M'hamid El Ghizlane, in Southern Morocco, Zagora province.
Pat: 47725024 RC 309/2809 No. IF 31832047
Message
We will be happy to answer your questions. Do not hesitate to contact us for any information related to your Morocco desert excursion tour. We will get back to you as soon as possible.
+33 628 568 405

contact@excursion-desert-maroc.com