Weekend in the desert of Marrakech
Escape in the Agafay desert for a weekend!
Weekend in the Marrakech desert
Weekend in the Marrakech desert – Marrakech desert excursion 1 night – Marrakech Agafay desert excursion – Marrakech stay – Morocco desert weekend – Week-end in Agafay
The city of Marrakech is a must-see destination in Morocco. During your holidays in Marrakech, discover a sublime place where elegance blends with bohemian style. Take advantage of your stay in Morocco to visit the desert of Marrakech. The Agafay desert is very close to the pink city (about 30km). It is therefore very easy to get there. This 2-day Marrakech desert excursion allows you to enjoy a weekend in Agafay.
Weekend in the Marrakech desert: discoveries and well-being
Marrakech is a lush oasis with its palm grove extending over several hectares. In its surroundings hides a jewel of nature: the rocky desert plateau called the Agafay desert. In the background of the Marrakech desert rise the High Atlas mountains and their snow-capped peaks.
Are you looking for a corner of paradise not far from Marrakech? Enjoy a break from everyday life in a sublime natural site. You will also appreciate the stay in one of the most beautiful camps in Agafay.
In the Agafay desert, we like to stroll by the pool, savor the delicious meals at the camp. Or practice activities such as quad biking, buggy, camel ride, hiking… But above all, we enjoy a total change of scenery and a very original experience.
Agafay desert tour: relaxing in a heavenly setting
To fully enjoy your weekend in the Marrakech desert, we offer a private 2-day package tour. The 1-night Marrakech desert excursion includes:
Day 1 :
private transfer in 4×4 with driver-guide from Marrakech to Agafay,
with pick-up at your hotel in Marrakech,
1 hour quad biking or buggy in Agafay,
lunch and pool pass in a luxury camp,
dinner and musical entertainment at the camp,
overnight stay in one of the best desert camps in Marrakech;
Day 2:
breakfast at camp,
camel ride (1h) in Agafay,
transfer to Marrakech.
What activities for a weekend in the Marrakech desert?
During your weekend in the Marrakech desert, you can enjoy different activities – horse riding, cycling (with or without a guide), short hike in the desert, massage, yoga and meditation, 4×4 tour of the Marrakech desert and mountains of the Atlas, astronomy session, … For a tailor-made program, contact us!
Excursion tour Marrakech desert 1 night

Marrakech desert weekend (2 days, 1 night)

Marrakech - Agafay desert: between 30min and 45 min driving

Round trip transport Marrakech - Agafay desert included in the formula.

Your driver-guide will pick you up at your hotel.
The Marrakech desert weekend is a formula that is ideal for a family holiday.

Do you want to mark a special event?

Birthday, family celebration, wedding anniversary, romantic weekend ... We can organize it together.

Some of the complementary activities are only offered in some Agafay luxury camps.

Weekend in the Marrakech desert: stay in a luxury camp.

Enjoy an exceptional weekend between charm and luxury. Tents rich decorated, tasting menus, swimming pool ...

Enter an oriental dream for a weekend.

Experience a walk in the Agafay desert, a stargazing moment, a dinner under a private tent, a 4x4 visit of the Marrakech desert and the Atlas mountains.
Quad biking Marrakech desert

During your weekend in Agafay, enjoy a quad biking tour to visit this exceptionnal place.

You can opt for 1 or 2 hours quad or buggy riding.
Contact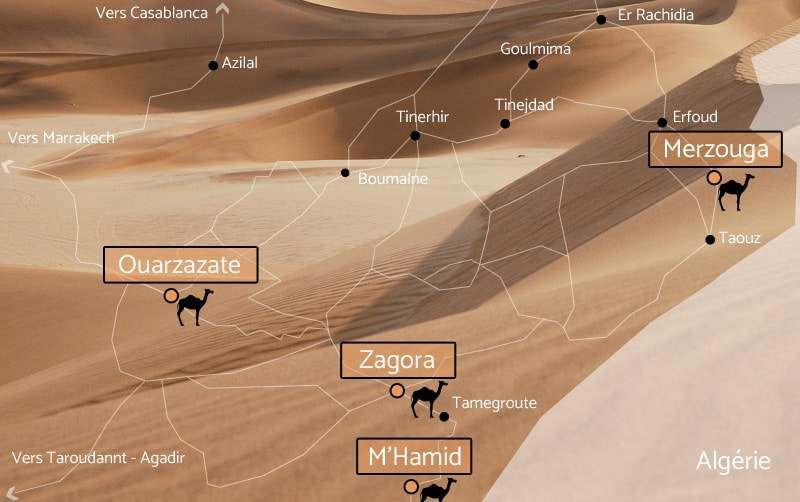 Our agency is located in M'hamid El Ghizlane, in Southern Morocco, Zagora province.
Pat: 47725024 RC 309/2809 No. IF 31832047
Message
We will be happy to answer your questions. Do not hesitate to contact us for any information related to your Morocco desert excursion tour. We will get back to you as soon as possible.
+33 628 568 405

contact@excursion-desert-maroc.com