Camel tour M'hamid
Morocco desert hike from M'hamid
Camel tour M'hamid
Camel tour M'hamid – Morocco desert tour – M'hamid desert trip – Morocco camel riding – Desert trekking M'hamid – Morocco Sahara day tour
Camel tour M'hamid for a day
After meeting your guide, you will find camels and leave the village of M'hamid for a day Morocco camel trekking tour.
The village of M'hamid El Ghizlane is the last before the asphalt road turns into a desert track … It celebrates the nomadic culture every year. An international festival brings together nomads from around the world and celebrates their traditions.
You make a small stop at the village to get turbans. Your M'hamid camel tour can then start ! You see the desert stretching before you all along the horizon bordered by the Lakrab mountains.
You cross the dunes and you see gradually appear the first palms of the Oasis.
During your Morocco desert hike, you will enjoy an endless view of the dunes of the Sahara. You will stop under the shade of the palm trees for lunch.
Lunch in the shade of tamarisk with your guides will be a privileged moment to exchange and learn more about nomadic Saharawi culture of this region of Morocco.
You will also enjoy traditional dishes prepared on site.
After this break (the duration of which may vary depending on your wishes), you go back to the desert dunes.
You leave on foot or on the back of your faithful companions, camels, to conquer higher dunes (whose size can reach up to 60m). You have the opportunity to walk on the dunes during part of the excursion. You enjoy camel trekking during this day excursion tour. The end of the day is approaching.
You will stop to admire the sunset before heading back to the village
Arrived at M'hamid, you leave the camels. Your Morocco Sahara camel tour ends. If you spend a night in our Morocco desert camp in M'hamid El Ghizlane, you can visit the next day the Erg Chigaga dunes, ones of the largest in Morocco's Sahara.
One day Morocco desert tour with camel ride

Your Morocco tour starts with a departure in the morning between 8 AM and 9 AM.
Back to the sunset.

You advance in the desert to the rhythm of the camels.
Il the Morocco desert camp (*optional), you will enjoy an evening around the fire and entertainment (traditional music).
Our nomadic camp is located in the dunes of the Sahara, about 6km from the village of M'hamid.

After your camel ride in the desert, you can enjoy a hammam or a massage.

The dunes to see around M'hamid during your Morocco desert tour:
Erg Lihoudi (the Jewish dune), Erg Bougarn, Erg Zahar (the "screaming dunes"), Erg Chegaga (the largest dunes in Morocco), Erg Smar, ...
Contact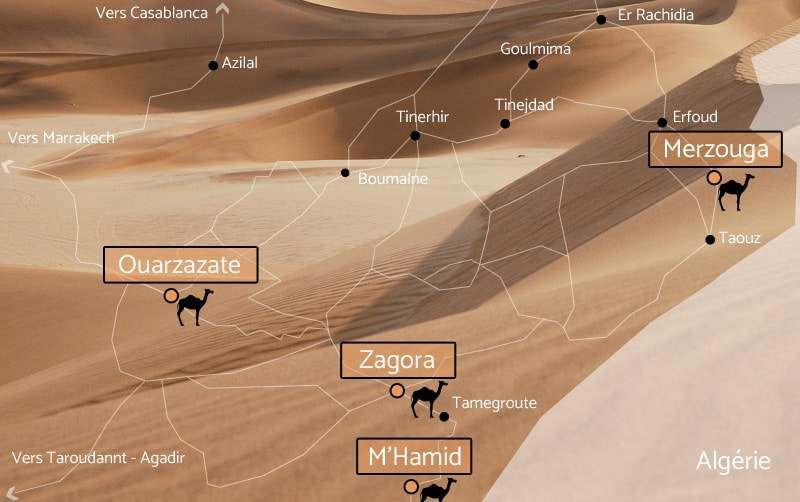 Our agency is located in M'hamid El Ghizlane, in Southern Morocco, Zagora province.
Pat: 47725024 RC 309/2809 No. IF 31832047
Message
We will be happy to answer your questions. Do not hesitate to contact us for any information related to your Morocco desert excursion tour. We will get back to you as soon as possible.
+33 628 568 405

contact@excursion-desert-maroc.com