4x4 Erg Chigaga excursion
Contemplate the sunset on the big dunes of Erg Chigaga
4×4 Erg Chigaga excursion
4×4 Erg Chigaga excursion – Morocco desert tour to Erg Chigaga – Day Sahara trip – Morocco daily desert excursion
4×4 Erg Chigaga excursion from M'hamid
After having met your guide in M'hamid, you leave by 4X4 for this Morocco desert excursion.
The first part of the desert that you will cross is composed of dunes dotted with tamarisks. Then you go through the hamada (a desert plateau with stones) with acacia trees. On the way, you can see herds of camels.
Driving on the trail in the desert will please those who love adventure and thrills ! You can relay your guide and get behind the wheel on the track !
During this 4×4 Erg Chigaga desert tour, you take a break to have tea with nomads who live in the desert with their flocks of goats and camels. You will then continue to the sacred Oasis where you will stop for lunch. Picnic in the shade of palm trees where nomads meet, the place being endowed with a source of water. Enjoy this pleasant moment of relaxation in the Sahara.
Your Morocco Sahara adventure continues in the direction of the big dunes of Erg Chigaga. Arrival in the early afternoon. You go for a camel ride of about 1 hour. Your enjoy silence, golden dunes and the majestic landscapes of the Sahara.
Camel ride in Erg Chigaga is an unforgettable moment
The Sahara unveils before you all its secrets and its most beautiful dunes … During your Morocco desert trip, you can also enjoy a walk in the dunes. Once the camel ride over, you leave the camels at the foot of the big dunes and you climb to enjoy the sunset. This is not a myth, the sunset in the Morocco desert is a magnificent sight! Then return to M'hamid.
Your 4×4 Erg Chigaga desert excursion ends but you can extend your Sahara experience with a night in a Morocco desert camping in Erg Chigaga or in M'hamid. Enjoy an animation around the fire with traditional music and a night in absolute calm under a thousand stars ! This Morocco Sahara tour is also available from Zagora.
Departure for this Erg Chigaga desert tour between 8 AM and 9 AM
The big dunes of Erg Chigaga are 65 km from M'hamid. (2 hours of 4X4 drive on the track)
Optional : possibility to spend a night in Erg Chigaga desert camp. Overnight in a nomadic tent. You can also enjoy a stay in a desert luxury camp Morocco. Departure the next day after breakfast.
Dunes to visit in the M'hamid desert during Morocco excursion:
Erg Chigaga (the big dunes), Erg Smar, Erg Lihoudi (the Jewish dune), Erg Bougarn, Erg Zahar (the screaming dunes), ...
Do you need a transfer between your arrival city and the M'hamid desert for your Morocco desert trip?
Contact us and we will organize it together. Several transport options exist.
Practical information :

Ouarzazate - M'hamid : 260 km

Zagora - M'hamid : 100 km
Contact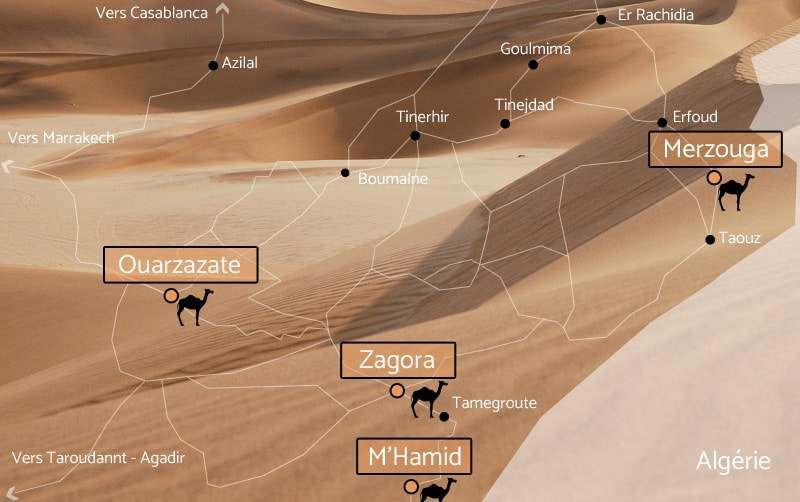 Our agency is located in M'hamid El Ghizlane, in Southern Morocco, Zagora province.
Pat: 47725024 RC 309/2809 No. IF 31832047
Message
We will be happy to answer your questions. Do not hesitate to contact us for any information related to your Morocco desert excursion tour. We will get back to you as soon as possible.
+33 628 568 405

contact@excursion-desert-maroc.com