BLOG
Hope to see you very soon
In this particular situation that we are currently experiencing due to the Coronavirus, we wanted to send you a message. Or rather several messages.
Take care of yourself and your loved ones …
What is essential for the moment, whatever the country in which we live, is to take care of our health and that of ours relatives. It is essential, health comes first …
… even if we can go out and travel, it is always allowed to dream
It also seems important to us to continue to think about ourselves, to dream, to plan, to plan for the future.
Our team remains united
During the confinement period when all professional activity stopped, our team remains united. We regularly receive news from each other. We help each other. Solidarity is one of the values ​​of the Sahrawi nomads.
What will be our activity while waiting for you soon?
We are not going to be unemployed! Several projects are underway.
We are currently working on our offer. We will try to offer you trips and programs that are even more authentic, more original and eco-responsible! We will enrich our excursion Morocco desert tours programs, camel trekking excursions, and Sahara trips. We will give you news from the desert very regularly!

Our local team will work, as soon as conditions allow, on improving the comfort of our bivouac.
We will work to keep in touch with you. It is important to us. It is even essential … write to us, tell us your memories of the desert and we can publish them on this blog, tell us about your dream trip to the desert …
We are waiting for you in the Sahara. Here it is sunny and warm. In the evening, we look at the stars. We take care of the camels. See you soon!
Contact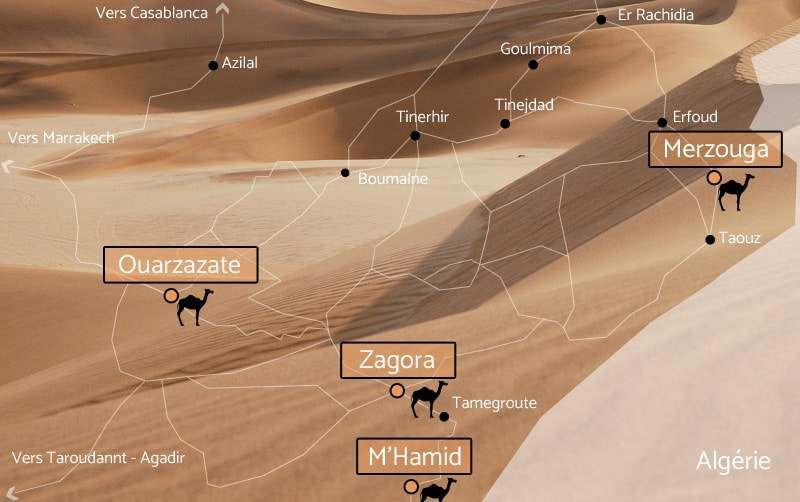 Our agency is located in M'hamid El Ghizlane, in Southern Morocco, Zagora province.
Pat: 47725024 RC 309/2809 No. IF 31832047
Message
We will be happy to answer your questions. Do not hesitate to contact us for any information related to your Morocco desert excursion tour. We will get back to you as soon as possible.
+33 628 568 405

contact@excursion-desert-maroc.com