Ouarzazate to Merzouga desert tour
Experience a 2-day tour to Erg Chebbi!
Ouarzazate to Merzouga tour 2 days
Ouarzazate to Merzouga tour 2 days – Morocco desert tour – Sahara excursion from Ouarzazate – Ouarzazate to Erg Chebbi desert tour – Private Morocco desert trip
During this excursion in the Morocco desert, you will discover the dunes of Erg Chebbi. This is a 4×4 Morocco desert tour from Ouarzazate. This desert excursion includes 4×4 transport between Ouarzazate and Merzouga with driver-guide.
On the morning of the first day of your Ouarzazate to Merzouga tour, your guide will pick you up at your hotel. Before arriving at the desert and during the journey, this Morocco Sahara trip allows you to visit beautiful places on the road.
The Oasis of Skoura and the Valley of roses
The Oasis is a cultivated palm grove in which are nestled several beautiful kasbahs. The road to Merzouga continuing through the Valley of Roses, this Ouarzazate to Merzouga tour makes you visit cooperatives on site and discover the different products they manufacture.
Then direction to the Gorges of Dades and the Dades Valley which extends over 25 km².
The Morocco desert tour to Erg Chebbi continues through the city of Erfoud located north of Rissani. As soon as you have crossed Rissani, your desert tour Morocco finally brings you to Merzouga (Erg Chebbi) in the late afternoon.
Enjoy Merzouga big dunes
Once arrived in Erg Chebbi, after a tea with Sahrawi nomads, you go for a camel ride. After the sunset in the desert, dinner, and overnight in a Merzouga desert camp. Thus ends your first day of the Ouarzazate to Merzouga tour.
The next day, your 2-day Morocco tour to Erg Chebbi continues. After a hearty breakfast at the camp, your excursion in the Sahara desert takes you back to Ouarzazate.
You cross the Drâa Valley in 4X4 and will pass by Zagora which is on the old caravan route.
You pass then by Agdz, where you have the possibility to stop for a break in this village with undeniable charm. Lunch is planned in Tamnougalt. It's a typical ksar of southern Morocco, located in the palm grove of Draa Valley with breathtaking views of the Anti-Atlas and the Oasis. Admire the contrast between the pink ocher color of the mountain and the dark green leaves of date palms …
This Merzouga desert tour continues by approximately one hour and half drive between Tamnougalt and Ouarzazate. (100km) Arrival at the end of the afternoon. Your Ouarzazate to Merzouga tour 2 days ends.
From Ouarzazate, you can also leave for a wilderness Ouarzazate M'hamid tour or Ouarzazate Erg Chigaga desert excursion.
Distance between Ouarzazate and Merzouga is approximately six hours of driving.

It is possible to extend this Ouarzazate Merzouga tour with one or two nights in the desert of Erg Chebbi or on the route between Ouarzazate and the desert.

You can also sleep in a hotel in Merzouga or in an Erg Chebbi desert camp.
Erg Chebbi luxury camp experience

For an inforgettable experience during your stay in Merzouga desert, we recommend a stay in a luxury camp.

You will enjoy a quality full service and comfortable conditions in the luxury tents in Merzouga.
In Merzouga you can also do quad riding or sandboard.

The dunes of Erg Chebbi are some of the largest dunes in Morocco.
Ouarzazate Merzouga desert tour: which activities in the desert ?

In Erg Chebbi, you can practice a quad biking, a sandboarding because there are big dunes, a camel trekking tour, a 4x4 excursion to visit Merzouga and its area.
Other activities based on your interests can also be planned.
Contact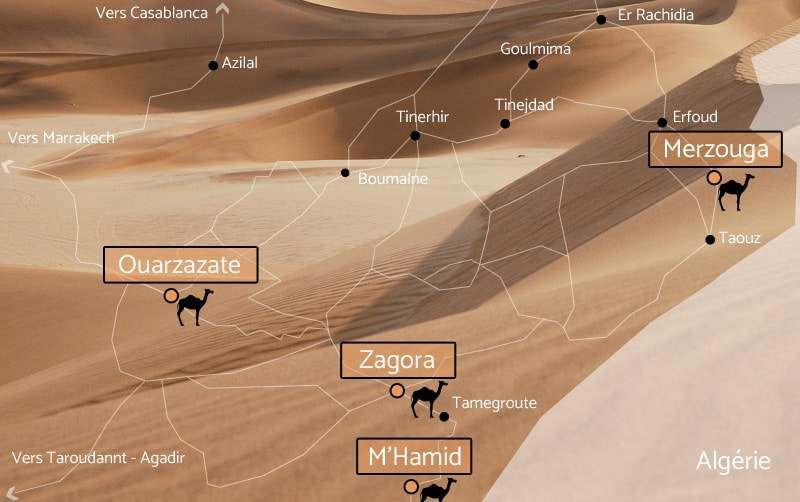 Our agency is located in M'hamid El Ghizlane, in Southern Morocco, Zagora province.
Pat: 47725024 RC 309/2809 No. IF 31832047
Message
We will be happy to answer your questions. Do not hesitate to contact us for any information related to your Morocco desert excursion tour. We will get back to you as soon as possible.
+33 628 568 405

contact@excursion-desert-maroc.com