Ouarzazate to M'hamid desert tour
From Ouarzazate, cross the Drâa Valley to discover the desert!
Ouarzazate desert tour to M'hamid 2 days
Morocco Ouarzazate desert tour to Mhamid – 2 days
Ouarzazate desert tour – Ouarzazate Sahara tour – A night in a Morocco Sahara desert camp – Camel ride – 4X4 Morocco Tour – Morocco Tour 2 days – Morocco Private Tour – Morocco Desert Tour
For this excursion in the Moroccan desert, we propose a departure from Ouarzazate. This desert tour of 2 days will allow you to visit the beautiful Draa Valley in 4X4 with driver-guide.
You leave in the morning around 8h30-9h from Ouarzazate.
Your guide will move to your hotel. Your excursion to the Sahara in 4X4 begins.
You start your Morocco desert tour in 4X4 by crossing the Draa Valley.
After an hour of travel, you will pass by Agdz, possibility of a break on the spot. Your 2-day Morocco desert tour continues. Stop for lunch in Zagora, after another 1h30 drive. You will continue towards M'hamid (1h30). The paved road stops at the village to make way for the golden dunes.
In the village, you find the camels and ride to our M'hamid desert camp. Welcome and tea. Sunset on the dunes.
Your first day of this Morocco tour ends with a dinner and overnight at the camp in a nomadic tent or under the stars.
The next day, after breakfast at the Sahara camp, your Ouarzazate desert tour continues with a walk on the dunes around the camp or a moment of relaxation. Then you leave the desert to take the road to Ouarzazate with your guide. Your Morocco excursion in 4X4 will make you pass in the Drâa Valley, with a visit of the village of Tamegrout and its famous pottery workshops.
The next stop will be Tamnougalt where you will enjoy a visit of the Ksar and a delicious lunch with breathtaking views of the palm and the Anti-Atlas.
Arrival in Ouarzazate at the end of the afternoon. Your desert tour Morocco ends. Your guide will drop you at your hotel.
It is also possible to organize Ouarzazate desert tours of a longer duration. Tell us about the planning of your holidays in Morocco and we will find together the most suitable formula.
This excursion in the Sahara is also available from Ouarzazate and one night in Merzouga. You can also enjoy one or more nights in bivouac at Erg Chegaga from Ouarzazate.
The Drâa Valley is named after the river that runs through it, which is more than 1,000 km long.

To see: the magnificent landscapes offered by the Anti-Atlas, the typical kasbahs of the South in ocher earth, the palm grove.

To taste: the dates of the palm grove!
Morocco desert tour without driver
This tour program is available without a driver-guide. You rent a vehicle. We provide you with a detailed itinerary and program and it is you who travel from Ouarzazate to the desert and back. It's up to you to choose the formula that best fits your wishes for this excursion in the Moroccan desert.

Idea: Morocco desert tour 3 days from Ouarzazate. If you extend your stay in the Moroccan desert for a day, you can make an excursion in 4X4 to Erg Chegaga.
Contact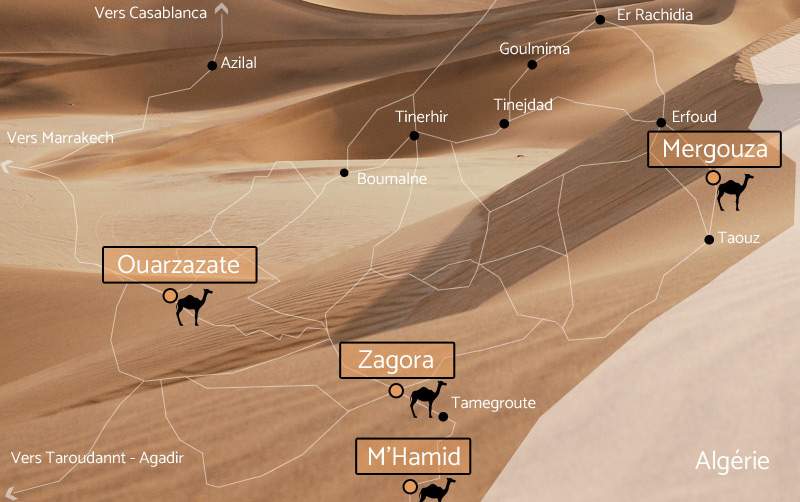 Our agency is located in M'hamid El Ghizlane, in Southern Morocco, Zagora province.
Pat: 47725024 RC 309/2809 No. IF 31832047
Message
We will be happy to answer your questions. Do not hesitate to contact us for any information related to your Morocco desert excursion tour. We will get back to you as soon as possible.
+33 628 568 405

contact@excursion-desert-maroc.com