Erg Chigaga tour from Zagora
Zagora desert tour : let yourself be enchanted by the beauty of the Sahara
Zagora to Erg Chigaga tour
Zagora to Erg Chigaga tour – Morocco desert tour – Sahara trip from Zagora – Zagora tours
Morocco Sahara tour to Erg Chigaga
Morocco desert tour from Zagora: Your 4×4 Sahara excursion starts after breakfast around 8 am or 9 am from Zagora. Your guide will pick you up to take you to discover the largest dunes of the Moroccan desert in Erg Chigaga. Some of these dunes reach a height of 150m.
Local guides have good driving experience in this desert environment and to find their way on the track.
Zagora to Erg Chigaga tour: a day trip to the Moroccan desert
Erg Chigaga is undoubtedly one of the places to visit in the Moroccan desert. It is an idea of Morocco desert tour if you spend holidays in southern Morocco. The landscapes are very beautiful and the dunes are very big. On-site, several Morocco desert camps are installed and offer a moment of relaxation and delicious meals. You can also opt for a luxury desert camp in Erg Chigaga.
One of the strengths of this Morocco Sahara desert tour is to discover more the different landscapes offered by the Sahara. The landscapes in M'hamid El Ghizlane are different from those in Erg Chigaga.
Lunch at Erg Chigaga, in a Sahara desert camp
An Erg Chigaga desert tour by 4X4 is also possible from M'hamid. You can also visit Erg Chigaga as part of an Ouarzazate desert tour or a Marrakech Erg Chigaga tour.
Camel ride in the big dunes of Erg Chigaga
After a moment of relaxation and rest, you can enjoy to discover the surrounding dunes, climb some of them. Then you go for a camel ride that will allow you to discover more about the place.
Discover the beauty of Erg Chigaga
Erg Chigaga is a 40km long Erg. This is a place that has kept its natural beauty.
After this walk, you take the track to return to M'hamid El Ghizlane where you continue on the paved road to return to Zagora at the end of the day.
And if you spend a night in a desert camp Erg Chigaga? Sleeping in the Moroccan desert, here is what we offer after this excursion by 4X4 in the Sahara. Enjoy a hearty dinner, a lively evening and a night in an ordinary Morocco desert camp or in a desert luxury camp at Erg Chegaga. You can also opt for a night in M'hamid in traditional nomadic tents.
One day Morocco desert tour from Zagora

The departure is from Zagora at 8 AM or 9 AM

How far is Zagora from M'hamid?

The distance is about 100km (1h30 of driving).

And between Erg Chigaga and M'hamid El Ghizlane?
The distance between the village of M'hamid El Ghizlane and Erg Chigaga is about 60 km. It's a trail that connects the two places. The journey is done in 4X4 and it takes about 2 hours for the duration of it.
Optional: you can extend your Zagora desert tour for an overnight stay in a Morocco Sahara desert camp in Chigaga or M'hamid.

Morocco desert tour: Visit Erg Chigaga or Erg Chebbi?

Merzouga (Erg Chebbi) is a more touristic place than Erg Chigaga.

Erg Chebbi (Merzouga) is located further south-east.
Contact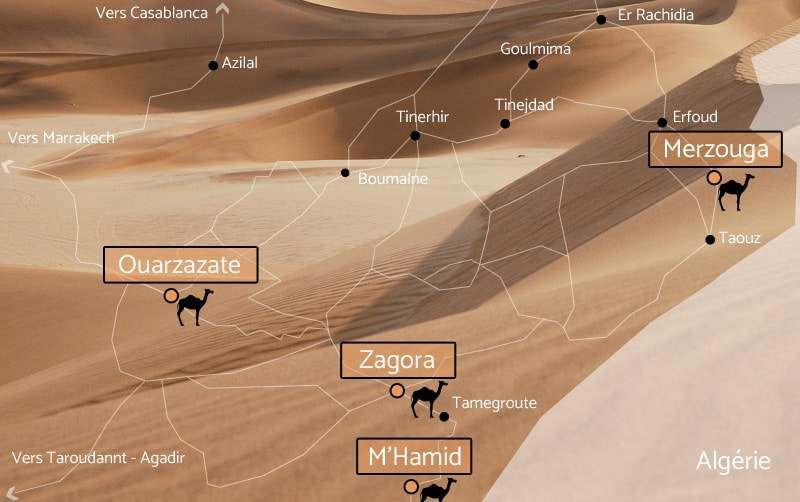 Our agency is located in M'hamid El Ghizlane, in Southern Morocco, Zagora province.
Pat: 47725024 RC 309/2809 No. IF 31832047
Message
We will be happy to answer your questions. Do not hesitate to contact us for any information related to your Morocco desert excursion tour. We will get back to you as soon as possible.
+33 628 568 405

contact@excursion-desert-maroc.com