Private Agadir day tour
Tafraout day trip from Agadir
Agadir day tour to Tafraout
Agadir day tour to Tafraout – Excursion from Agadir – Agadir day trip – Excursion to Tafraout from agadir – Visit Agadir – South Morocco trip – Agadir best tours
The Agadir day tour to Tafraout is one of the best tours around Agadir! The painted rocks which are the symbol of this small Berber town located south of Agadir. Discover an unusual, surprising, beautiful natural site…
Discover Tafraout "the pearl of the South"
You leave early in the morning for this Agadir day trip which will take you to Tafraout. The distance between Agadir and Tafraout is about 180km. Tafraout is also called "the pearl of the South". During this excursion from Agadir, you will visit this picturesque little town, nestled in the pink granite rocks of the Anti-Atlas. The charm of Tafraout also comes from the traditional architecture of the houses.
Located in the Ameln Valley, Tafraout is surrounded by the Anti Atlas mountains. You can see on the way and on site spectacular shapes of the rocks. In addition to the mountains, admire the flowery valleys (in January and February) with almond trees, argan trees, fig trees, olive trees…
Another fact: Tafraout stands above a plain with a palm grove. You can also see the terraced fields cultivated by the Berber inhabitants. The locals live mainly from agriculture and livestock.
During your tour from Agadir, also go up to the Kasbah of Tafraout. The Kasbah rises at the top of this city.
Agadir day tour to Tafraout : discovery of Tiznit
Enjoy lunch in Tafraout at a local restaurant or with a Berber family.
After lunch, your Agadir excursion continues to Tiznit. You will get there by climbing to the Kerdous pass which rises to 1100 meters above sea level! From there, do not hesitate to take the time to admire the magnificent landscapes of the orchards and the mountains. You can even take a break and have a coffee in front of this view.
In Tiznit, you will take a tour in the alleys of the medina. You continue by visiting the ramparts of this city full of charm. In Tiznit, there are some 5 km of ramparts! Tiznit is known for its workshops of jewelers who work with silver…
After these very interesting visits, you take the road to Agadir. Your Tafraout day trip comes to an end.
Do you want to discover the Sahara from Agadir? We offer you an Agadir desert tour to the great dunes of Erg Chigaga.
Tafraout day tour from Agadir
The distance is about 180km. (about 2h30 - 3h)
When is the best time to do this tour from Agadir?
You can visit Tafraout at any time of the year.

If you go in January or February, you will have the chance to see the almond orchards in bloom...
The Tafraout trip from Agadir is one of the best excursions from Agadir.
Landscapes are splendid and there are many discoveries!
Tafraout's weekly market takes place on Tuesdays.
If you make your excursion on a Tuesday, do not hesitate to go for a little walk!
Tiznit is a city in southern Morocco that is worth visiting.

A very good atmosphere reigns there, its medina and its market are absolutely to be discovered.
Craftsmen work silver jewelry but also leather.
A 4X4 Agadir tour.
As part of a private package, this Agadir excursion to Tafraout can be personalized.
Contact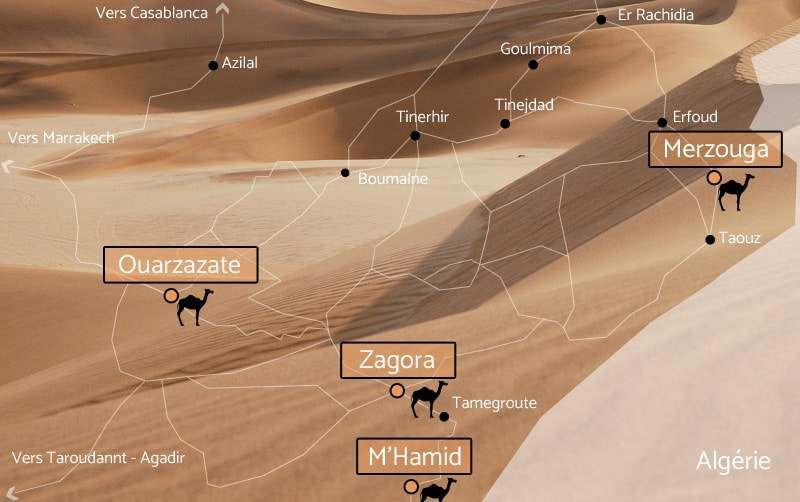 Our agency is located in M'hamid El Ghizlane, in Southern Morocco, Zagora province.
Pat: 47725024 RC 309/2809 No. IF 31832047
Message
We will be happy to answer your questions. Do not hesitate to contact us for any information related to your Morocco desert excursion tour. We will get back to you as soon as possible.
+33 628 568 405

contact@excursion-desert-maroc.com