Camel ride Erg Chegaga
An authentic excursion in the footsteps of old caravans ...
Camel ride Erg Chegaga
Erg Chegaga camel desert tour
A day camel ride in the biggest dunes of Morocco!
This desert Morocco tour starts in the morning around 8 AM or 9 AM.
You go for a day of walking and camel ride in Erg Chegaga, in the largest dunes in Morocco! Once the traditional turban knotted, the departure can be done.
The dunes follow one another, the sun rays play with the color of the sand, the fresh air, the calm, the silence, …
We feel calm, we advance at the pace of camels. We admire the beauty of the desert. The Sahara extends as far as the eye can see in all its splendor.
At noon, you will stop in the shade for lunch. Take advantage of this moment to relax, exchange with nomads Sahrawis, admire the surrounding landscapes and golden dunes.
After this moment of rest, you leave with the dromedaries and your guides. Your excursion in the Erg Chegaga desert continues.
In the afternoon, you can have tea with a nomadic family in the desert.
At the end of the day, return to your Erg Chegaga desert camp.
Trekking in Chegaga
Can we do a several days trek to Erg Chegaga?
Some trekking programs from M'hamid also include a hike to the Chegaga dunes.
At what time of the year can we plan a trip to the Erg Chegaga desert?
The excursion can be done between September and the end of June. Some people go to the desert during the summer: July and August, but temperatures are often high and could reach 45 ° to 48 ° or 50 °.
Contact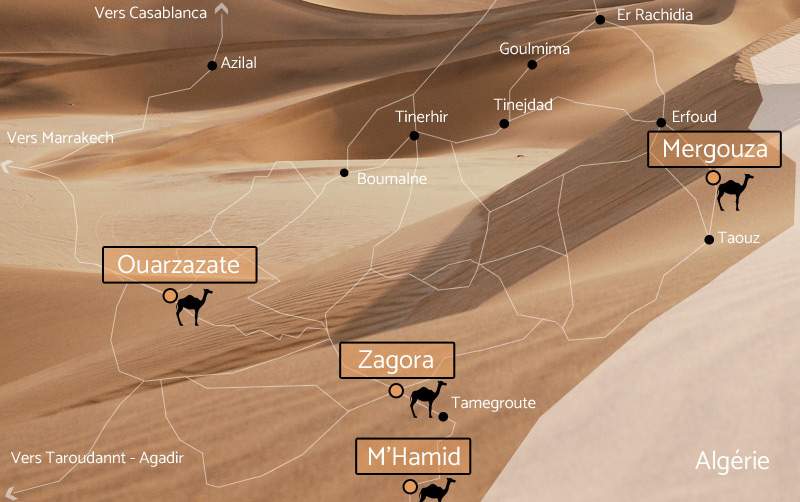 Our agency is located in M'hamid El Ghizlane, in Southern Morocco, Zagora province.
Pat: 47725024 RC 309/2809 No. IF 31832047
Message
We will be happy to answer your questions. Do not hesitate to contact us for any information related to your Morocco desert excursion tour. We will get back to you as soon as possible.
+33 628 568 405

contact@excursion-desert-maroc.com