Marrakech quad riding
Day trip to the Marrakech desert
Marrakech desert quad riding
Marrakech desert quad riding : You leave for your Marrakech desert quad tour around 9.30 AM. Your guide will pick you up at your hotel or riad. Then you leave for the desert of Agafay which is located at 35 minutes from Marrakech.
Quad biking in the desert of Marrakech 2 hours
Agafay will enchant you: magnificent landscapes and an exceptional natural environment. Once there, you will discover the desert of Marrakech by quad. You are crossing a rocky desert for about 2 hours and enjoy the magnificent arid landscapes with the Atlas Mountains in the background.
The 2-hour Marrakech desert quad excursion is ideal for discovering Agafay and sharing an activity with family or friends during your stay in the pink city.
This Marrakech desert quad riding activity can be practiced during the day or at the sunset moment.
It is an original activity to share with family, friends or lovers during your holidays in Morocco! We recommend for all those who love sport, thrills and beautiful discoveries!
You are accompanied by a professional guide during your quad riding tour in the desert of Marrakech.
Marrakech desert quad riding and camel ride in Agafay
We offer a half-day Marrakech desert excursion that includes:
a 2-hour quad biking excursion to discover the Agafay desert,
but also a one hour camel ride in the Marrakech desert.
This activity in the Marrakech desert can be organized in the morning or in the afternoon to enjoy the sunset.
If you enjoy a stay in Marrakech, you can also enjoy other activities or excursions in its surroundings, such as visiting the Ourika Valley, the Ouzoud waterfalls, etc.
You can also decide to leave for a Morocco desert tour from Marrakech to Merzouga where you also have the possibility of quad biking.
Marrakech quad biking desert with the family. Children are allowed to participate in this activity from the age of 15 years.

Marrakech desert day trip. Quad biking in the desert of Marrakech.

Departure in the morning around 9.30 AM.
For this activity, prefer dark colored clothes.
Where is the Agafay Desert?

Agafay is about 30 minutes drive from Marrakech (about thirty kilometers). When talking about the desert of Marrakech, it is indeed the desert of Agafay.

The so-called "desert" is indeed a desert expanse with stones. Located at the foot of the High Atlas, Agafay covers several hundred hectares.

The hills of color reminiscent of sand can be confused with the dunes of the Sahara ...

If you want to see the dunes of the Sahara, it is better to go down to the south of the country, Merzouga or M'hamid.
Contact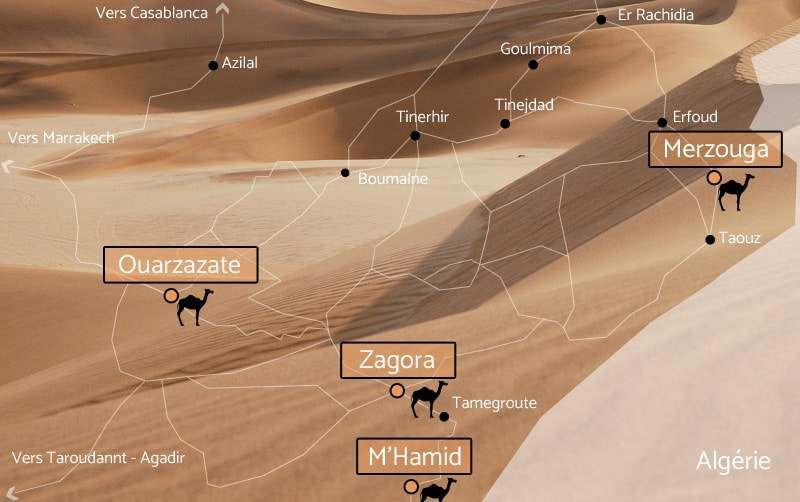 Our agency is located in M'hamid El Ghizlane, in Southern Morocco, Zagora province.
Pat: 47725024 RC 309/2809 No. IF 31832047
Message
We will be happy to answer your questions. Do not hesitate to contact us for any information related to your Morocco desert excursion tour. We will get back to you as soon as possible.
+33 628 568 405

contact@excursion-desert-maroc.com