Visit the palm grove of Marrakech
Camel ride Marrakech
Camel ride Marrakech
Camel ride Marrakech – Camel ride Agafay – Marrakech desert camel tour – Marrakech camel tour – Morocco camel ride – Agafay camel tour
This Marrakech excursion is ideal to spend a day away from the tumult of the red city. Go on a Marrakech camel tour in the Agafay desert or in the palm grove! This activity will enchant the whole family.
Departure in the morning with your guide. Pick up from your riad or hotel.
Camel ride in the Marrakech desert
This Marrakech desert excursion is an opportunity to discover the desert of Agafay: its rocky plateaus, the Atlas Mountains in the background, its nomadic camps,… Enjoy the calm of the Marrakech desert and the magnificent landscapes during this excursion from Marrakech.
Discover the exotic and majestic decor of Agafay during a camel tour.
You can choose one hour or 2-hour camel ride in the Marrakech desert.
The camel ride in the desert of Marrakech is a very popular activity. To make this moment even more magical, you can go there for the sunset.
Camel tour in the palm grove of Marrakech
Arrived with your driver in the palm grove of Marrakech, you will find the camels there. Let's go for 1 hour or 2 hours of camel tour in the beautiful palm grove of Marrakech.
Enjoy this Oasis with undeniable charm and which is at only 15 minutes from Marrakech.
You have the option of doing this excursion either in the morning or in the afternoon for the sunset.
This Marrakech camel excursion is ideal for getting away from it all without straying too far from the city.
You can also decide to go quad biking in the Agafay desert or do both activities.
Departure in the morning at 9.30 AM ot at 2.30 PM.

Marrakech day trip - camel ride. Activity in Marrakech. This Marrakech camel tour could be organized during all the year.

The most of this Marrakech excursion: you do not move far from Marrakech while changing the decor and atmosphere. Marrakech is also a lush oasis with its palm grove of 14 000 ha!
This Marrakech excursion is an idea of ​​activity during your stay in the city of Marrakech.
Enjoy it for a pleasant day in the palm grove or in the Marrakech desert.

You can also choose to do some quad biking in Agafay.

During your Marrakech camel tour you can enjoy lunch in a camp in Agafay.
If you do your Marrakech tour in the morning, it is possible to plan lunch in an Agafay desert camp. If you leave in the afternoon, you can enjoy dinner in the Marrakech desert.
Your driver will take you to your accommodation after this tour in Agafay.
Contact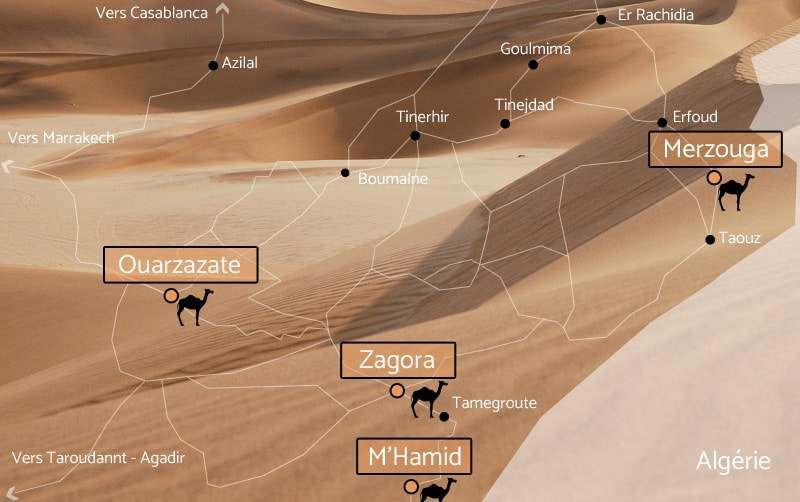 Our agency is located in M'hamid El Ghizlane, in Southern Morocco, Zagora province.
Pat: 47725024 RC 309/2809 No. IF 31832047
Message
We will be happy to answer your questions. Do not hesitate to contact us for any information related to your Morocco desert excursion tour. We will get back to you as soon as possible.
+33 628 568 405

contact@excursion-desert-maroc.com