Erg Chigaga desert camp
Morocco Sahara desert camp under the starry sky...
Erg Chigaga desert camp
Erg Chigaga desert camp
Sahara desert camping Erg Chigaga – Sleeping in Erg Chigaga – Erg Chigaga luxury nomadic camp – Night in the Moroccan desert – Sahara camp Morocco
Overnight Erg Chigaga desert camp
Erg Chigaga is one of the places we recommend for a great stay in the Moroccan desert.
The stay in the Sahara can be done most often on the occasion of an excursion or Morocco desert tour. But it is quite possible to plan a stay in Erg Chigaga desert camp a few days. Spend a night in the Moroccan desert is a beautiful adventure that invites us to a cultural journey and very original. So why not? Experience a Morocco Sahara desert camp stay in Erg Chigaga.
During your holidays in Morocco, let's organize together your accommodation in a desert camp in the big dunes of Erg Chigaga.
The Erg Chigaga camping is composed, like the other Sahara camps in the Moroccan desert, of traditional nomadic tents that can accommodate up to 4 people.
What makes the charm of the Chegaga desert camp, it is all the atmosphere which emerges there. The tents, the lighting at night that draws the path between the tents, the big fire around which we can sit to listen to music or meet Sahrawi nomads…
Our desert camp Erg Chigaga proposes a varied and quality moroccan meals.
Luxury camp in Erg Chegaga

In addition to traditional camps, accommodation can be provided in a luxury desert camp Erg Chegaga.
Do you want to celebrate a special event? You want to make a gift? A night in an Erg Chegaga luxury camp is, without a doubt, a good idea.
The stay in a luxury camp is an exceptional and tailor-made stay!
If you plan a trip from Marrakech to Erg Chegaga, it takes at least 3 days.

If you are in Ouarzazate, you must allow 2 days minimum.

The duration of your trip in the Moroccan desert will also depend on the nights you want to spend there.
Contact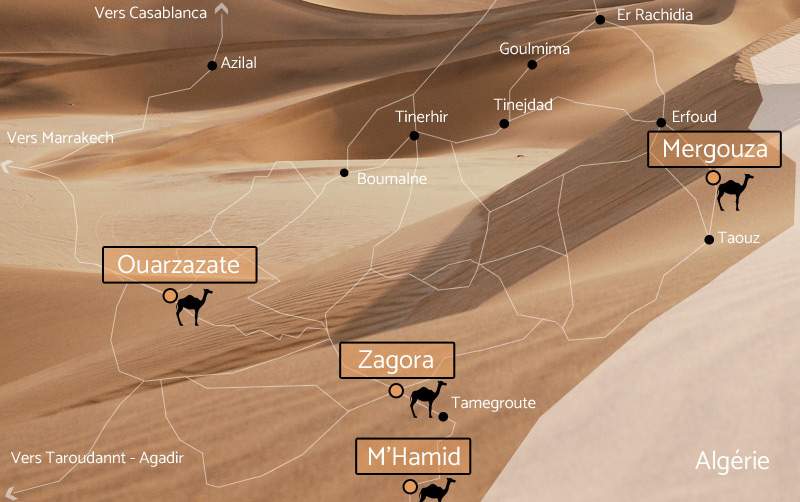 Our agency is located in M'hamid El Ghizlane, in Southern Morocco, Zagora province.
Pat: 47725024 RC 309/2809 No. IF 31832047
Message
We will be happy to answer your questions. Do not hesitate to contact us for any information related to your Morocco desert excursion tour. We will get back to you as soon as possible.
+33 628 568 405

contact@excursion-desert-maroc.com