Merzouga desert camp
Overnight at Erg Chebbi in a traditional nomadic camp or a Merzouga luxury desert camp
Merzouga desert camp
Merzouga desert camp – Erg Chebbi luxury camp – Overnight Merzouga – Merzouga luxury desert camp – Morocco desert camp – Overnight stay Sahara
What is the experience of the desert without Merzouga overnight stay in a nomadic desert camp? The Morocco desert tour offers you the possibility to do different activities. In addition, if you wish you can organize your overnight stay in Erg Chebbi thanks to one, two or more nights in a Morocco Sahara desert camp.
Merzouga desert camp : nomadic tents in the dunes of Erg Chebbi
The Merzouga desert camping is, like the other Sahara nomadic camps in the Morocco, composed of several traditional tents. These offer all the necessary comfort for a pleasant overnight stay in Erg Chebbi. Each tent can accommodate from 2 to 4 people in general. You can also choose a luxury camp for your Merzouga stay.
During your Merzouga overnight stay, enjoy activity you like :
On-site meals: savor quality traditional Moroccan cuisine
Erg Chebbi offers an on-site restoration in a specially dedicated tent. You have the choice between several dishes: salads, tajines, grills, …
Enjoy traditional music in the Merzouga camp
The overnight stay in a Merzouga desert camping, is also an opportunity to spend an evening around the fire with traditional music! Let yourself be carried away by the Sahraoui rhythm under a starry sky and after a delicious dinner. The evening at the nomadic camp in Erg Chebbi with animation is also an opportunity to meet other travelers, get to know your hosts better, or just enjoy the moment with your family or friends, to relax.
The Merzouga luxury desert camp offers higher accommodation conditions in terms of comfort. The tents are richly decorated and have a corner with en suite shower room. Luxury camp in Erg Chebbi is more often located in the dunes. Tables can be set up in a quiet and intimate place where you can fully enjoy dinner or breakfast … Meals invite you on a culinary journey of quality.
Can we go to Merzouga with a rental car?

Of course! You can reach Merzouga with a rental car. On-site, you can park it at a safe place for the duration of your stay at Erg Chebbi.

Also, note that bus lines also allow going to Merzouga. A transfer can also be organized by us. Do not hesitate to contact us for more information.
Stay in Merzouga with your family
You can spend a family holiday in Merzouga, in a Morocco desert camp.
The tents are equipped and the youngest are welcome!
Children will be delighted about the Merzouga camel ride.
What activities during the stay at the desert camp in Merzouga?

Camel ride,
quad,
sandboard,
relaxation, massage,
henna,
cooking class ...
Contact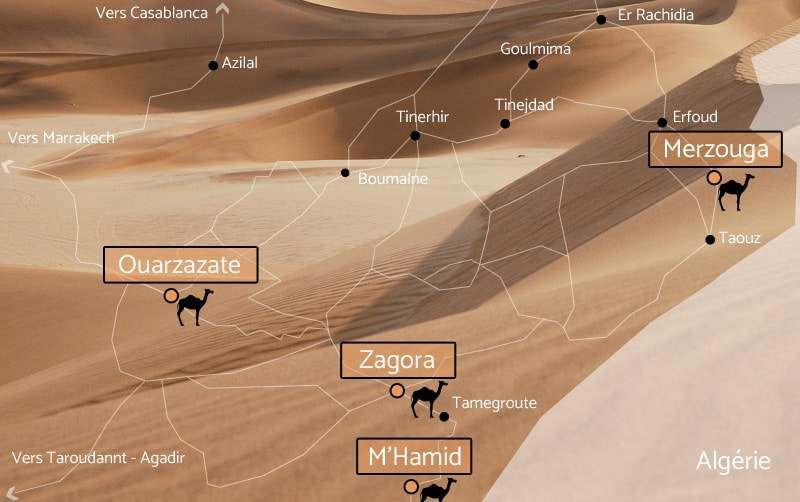 Our agency is located in M'hamid El Ghizlane, in Southern Morocco, Zagora province.
Pat: 47725024 RC 309/2809 No. IF 31832047
Message
We will be happy to answer your questions. Do not hesitate to contact us for any information related to your Morocco desert excursion tour. We will get back to you as soon as possible.
+33 628 568 405

contact@excursion-desert-maroc.com