Merzouga desert camp
Overnight at Erg Chebbi in a traditional nomadic camp or a Merzouga luxury desert camp
Merzouga desert camp
Merzouga desert camp – Erg Chebbi luxury camp – Overnight Merzouga – Merzouga luxury desert camp – Morocco desert camp – Overnight stay Sahara – Morocco Sahara camp
Do you want to spend one or two nights in a Merzouga desert camp? Spending the overnight in a nomadic tent in the Moroccan desert? We offer you a unique experience in a nomadic camp at the foot of the Erg Chebbi dunes.
Merzouga desert camp overnight
Our camp in Merzouga is made up of traditional nomadic tents. Each tent is for 2 to 4 people. The tents are in a simple and authentic style.
In the evening, we meet around the fire to listen to the songs of the nomads. Enjoy dinner in a large tent. You can savor authentic Moroccan cuisine.
During your stay in our Merzouga desert camp, also enjoy a camel ride. Or go on a camel trek for the day.
Luxury camp Merzouga
Our luxury camp in Merzouga offers very comfortable accommodation conditions. The tents are beautiful and have a corner with a private bathroom.
The Merzouga luxury camp offers all the necessary comfort for an unforgettable stay in Erg Chebbi.
Tables can be set up in a quiet and intimate place allowing you to fully enjoy a dinner or a breakfast… Meals invite you to take a quality culinary journey.
Activities during your stay in our Merzouga desert camp
During your stay in our bivouac in Merzouga, enjoy the Moroccan desert.
We offer different experiences that can be personalized:
visit the nomads who live in the desert,
cultural discoveries,
hiking trek in Merzouga,
sandsurfing,
picnic lunch in the middle of the desert,
quad or buggy ride,
African percussion workshop,
yoga retreat.
We can organize a 4x4 transfer with private driver to Merzouga.
For small groups, we provide transport by minibus.
You can also come to Merzouga by your own means of transport.
Merzouga Accommodation
In addition to traditional bivouacs, several types of accommodation are available in Erg Chebbi: guest houses, riads, hotels, ...

The night in a nomadic camp remains one of the favorite experiences of travelers.
Stay in Merzouga with your family
Our camps in Merzouga are suitable for a family stay in the Moroccan desert.
The youngest are welcome. They will be delighted with the camel ride.
The older ones will like a quad biking tour.
Hiking in Merzouga
Among the most popular activities in Merzouga is the camel trekking.
Trekking in the Sahara allows you to discover magnificent landscapes. In Merzouga the dunes are impressive.
During the hike lunch is provided in an Oasis. This makes this experience even more beautiful.

But we must also mention the visit of the nomads who live in the Sahara.
Contact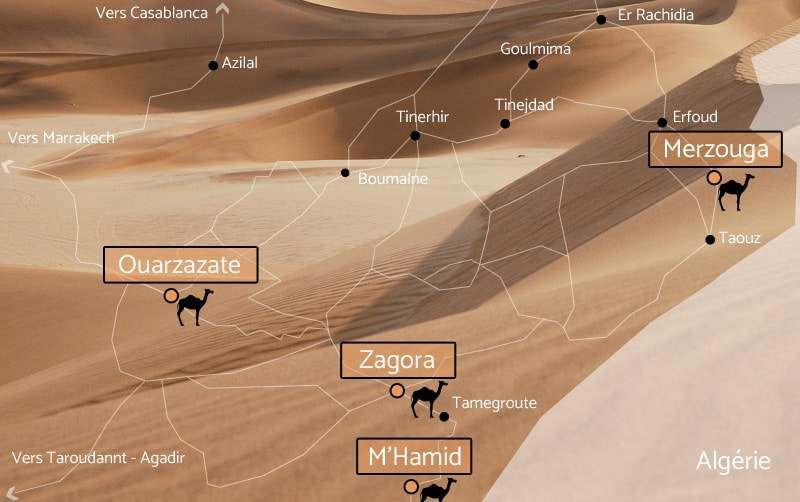 Our agency is located in M'hamid El Ghizlane, in Southern Morocco, Zagora province.
Pat: 47725024 RC 309/2809 No. IF 31832047
Message
We will be happy to answer your questions. Do not hesitate to contact us for any information related to your Morocco desert excursion tour. We will get back to you as soon as possible.
+33 628 568 405

contact@excursion-desert-maroc.com