Day tour to Imlil from Marrakech
Marrakech day trip
Day Tour to Imlil from Marrakech
Day tour to Imlil from Marrakech – Marrakech day tour – 1 day excursion from Marrakech – Marrakech Atlas Mountains excursion – Trip to Imlil from Marrakech – Marrakech day trip
The day tour to Imlil from Marrakech starts in the morning. This is one of the best day trips from Marrakech to do during your stay in the pink city. You are going to discover the Atlas Mountains. The advantages of this day tour from Marrakech: the magnificent landscapes and the cultural experience.
Day tour to Imlil: discover the landscapes of the Atlas mountains
You head south from Marrakech to get to the village of Imlil and the High Atlas Mountains. This excursion from Marrakech can be done in one day.
Imlil is a Berber village which is a starting point for hikes in the Atlas and the ascent of Mount Toubkal. You pass through green valleys. During the summer, this day trip from Marrakech is ideal for finding freshness in the mountains. You will pass through the village of Asni before arriving in Imlil. On the road you can visit an argan cooperative. In Imlil, enjoy lunch with a local Berber family or at a restaurant overlooking the mountains.
Hiking in Imlil during this day trip from Marrakech
After lunch, you go for a walk in Imlil with a local guide. You will walk in the mountains to discover pretty waterfalls. Also go up to Aït Souka to admire the breathtaking landscapes. Take a tea on the terrace of a traditional house and discover the lifestyle of the local Berbers. The view of the Atlas is impressive. The terraced gardens in the mountain are very beautiful, there are walnut and cherry trees. You can explore the fields and gardens around Imlil.
After these visits, you come back to Marrakech. You will be back at the end of the day (between 5 PM and 6 PM). For a visit of the Atlas mountains and the Agafay desert, see our one day tour from Marrakech.
The village of Imlil is located at an altitude of 1,740m, in the High Atlas mountains.

Imlil is in the Toubkal National Park.

A day trip in the Atlas mountains from Marrakech.

If you go for this Marrakech to Imlil excursion tour on a market day, you will stop to discover the atmosphere and local products.
The village of Imlil is located about 70km from Marrakech.
It takes about 1h30 to arrive.
Camel ride during the Imlil tour from Marrakech

You can take a one-hour camel ride on the way back from Imlil.
This activity is enjoyed by adults and children alike!

This a 4x4 Marrakech day trip.
Contact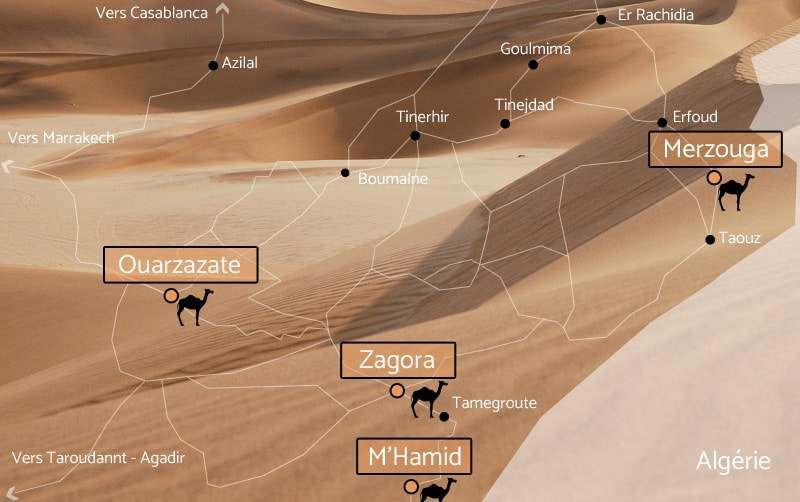 Our agency is located in M'hamid El Ghizlane, in Southern Morocco, Zagora province.
Pat: 47725024 RC 309/2809 No. IF 31832047
Message
We will be happy to answer your questions. Do not hesitate to contact us for any information related to your Morocco desert excursion tour. We will get back to you as soon as possible.
+33 628 568 405

contact@excursion-desert-maroc.com