Atlas and Agafay tour from Marrakech
Day trip from Marrakech
Atlas and Agafay tour from Marrakech
Atlas and Agafay tour from Marrakech – day tour from Marrakech – Marrakech to Atlas trip – Agafay tour from Marrakech – Marrakech outdoor activity – tour from Marrakech – Marrakech day trip
The Atlas and Agafay tour from Marrakech starts at 9 AM. This day trip from Marrakech is amazing to discover the Atlas Mountains and the Agafay desert in one day. The first step of this Marrakech day trip is taking you to the village of Imlil before visiting the Agafay desert.
Atlas and Agafay tour from Marrakech: discovery of Imlil
The village of Imlil is located south of the city of Marrakech, in the Atlas Mountains. Imlil is the first step of this Atlas and Agafay tour from Marrakech.
Imlil is a small Berber village with a lot of charm which is known to be a starting point for trekking in the mountains. Trekkers go to Imlil to climb Mount Toubkal.
Once you arrive in Imlil, after admiring landscapes with green valleys and enjoying views of the High Atlas mountains, you set off for a walk with your guide. Discover the waterfalls or climb up to Aït Souka before having lunch with a local Berber family.
Agafay desert tour
When your visit to Imlil is over, your Atlas and Agafay desert excursion from Marrakech will take you through the Kik plateau. Once past the Kik plateau, you will pass by Lalla Takerkoust lake before seeing the Agafay desert in front of you. A stop is planned to enjoy the view on the lake.
The Marrakech desert is only about thirty minutes from the pink city. It is a rocky desert but the hills look like the dunes of the Sahara in the distance… Here you can enjoy a camel ride or a quad activity before hitting the road back to Marrakech.
The Atlas and Agafay desert tour from Marrakech allows you to discover very varied landscapes and natural sites of great beauty. The surroundings of Marrakech lend themselves to rich visits in just one day (Valley of Ourika, Cascades of Ouzoud, …).
Atlas and Agafay tour from Marrakech: departures all days of the week

What is the best time to do this Marrakech day trip?
The Atlas and Agafay tour could be done all year round.
The distance between Marrakech and Imlil is about 70 km.
The village of Imlil is located in the Toubkal National Park.
In the Agafay desert, several activities are available including a camel ride or a quad ride.
The camel ride lasts 1 hour.
If you prefer quad biking, you can do a 1 or 2 hour activity.
It is also possible to do both activities during this Marrakech excursion.

The Atlas and Agafay desert tour from Marrakech is ideal for a family outdoor activity!

It's a Marrakech day trip by 4x4 or by minibus.
Contact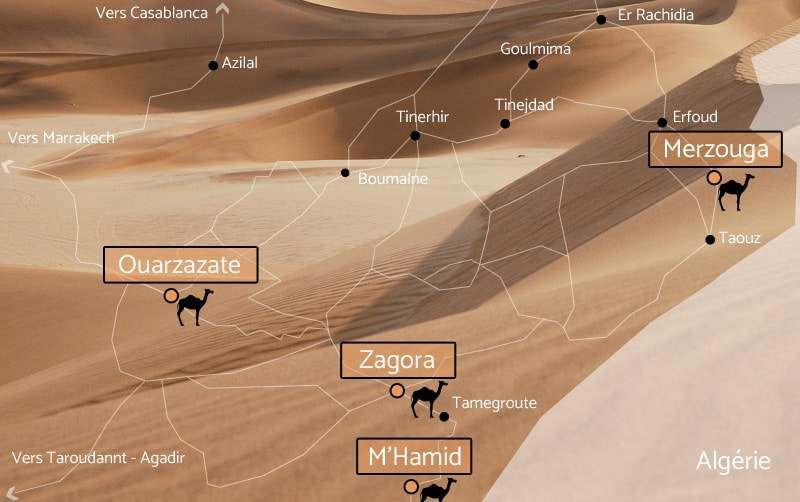 Our agency is located in M'hamid El Ghizlane, in Southern Morocco, Zagora province.
Pat: 47725024 RC 309/2809 No. IF 31832047
Message
We will be happy to answer your questions. Do not hesitate to contact us for any information related to your Morocco desert excursion tour. We will get back to you as soon as possible.
+33 628 568 405

contact@excursion-desert-maroc.com