Ourika Valley day trip
Marrakech day tour
Ourika Valley day trip
Ourika Valley day trip – Marrakech day tour – Ourika Valley day trip from Marrakech – Marrakech to Ourika Valley excursion – Visit of the Ourika Valley
You leave for this day trip from Marrakech in the morning at 9 AM.
Your driver-guide will pick you up at your hotel for this day excursion in the Ourika Valley. Transport is provided by 4×4.
The Ourika Valley is located in the High Atlas Mountains. You will get away from the bustle of the city of Marrakech. You will first see the walls of the medina of Marrakech parade as well as the pretty gardens.
Then, you take the direction towards the plain of Haouz. You can admire the landscapes offered by the Atlas and the small Berber villages nestled in the mountains.
You will stop at a traditional Berber house to drink a cup of tea and enjoy the scenery from the top of the terrace.
Once the Haouz plain has been crossed, arrival in the Ourika Valley.
Lunch is provided in one of the restaurants by the river, where you can enjoy Moroccan cuisine and a view of the landscape all around.
Then, on the program of this Ourika Valley day trip from Marrakech, a visit to the valley and a walk along the river are planned.
You could extend your visit to the Ourika waterfalls in Sitti Fatma (a small village located at an altitude of 1,500 meters). You go with a local guide for a walk and see the beautiful waterfalls.
The return to Marrakech from this excursion in the Ourika Valley is in the afternoon. Your driver-guide will drop you off at your hotel.
Also discover our day trip to the Ouzoud Waterfalls.
Departure at 9 AM.

Pick-up at your hotel.

Marrakech day trip.
On the road to Ourika Valley, you will enjoy magnificent views overlooking green gardens, fertile plains with fruit trees, small charming Berber villages. The land changes color as you progress along the route. The peaks of the Atlas are revealed in front of you.

Take advantage of this time during your Marrakech day trip to know more about local traditions.

You can also take a camel ride for an hour before hitting the road again.
Contact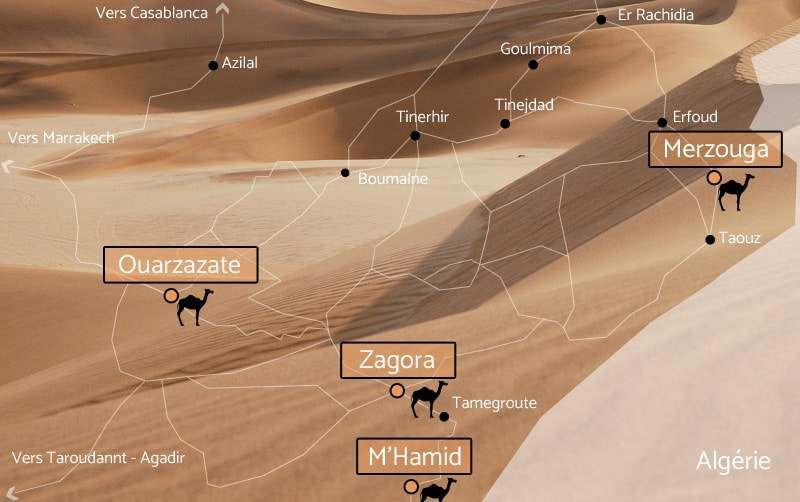 Our agency is located in M'hamid El Ghizlane, in Southern Morocco, Zagora province.
Pat: 47725024 RC 309/2809 No. IF 31832047
Message
We will be happy to answer your questions. Do not hesitate to contact us for any information related to your Morocco desert excursion tour. We will get back to you as soon as possible.
+33 628 568 405

contact@excursion-desert-maroc.com