Ouzoud Waterfalls day trip
Marrakech day tour
Ouzoud Waterfalls day trip
Ouzoud waterfalls day trip – Marrakech day tour – Marrakech to Ouzoud waterfalls excursion – Morocco day tour – Marrakech day trip
Departure in the morning around 9 AM. Explore the surroundings of Marrakech, far from the crowds and noise of the pink city. Visit the Ouzoud Waterfalls on a day trip from Marrakech.
Your driver-guide picks you up at your hotel in Marrakech for a Ouzoud Waterfalls day tour.
The Ouzoud waterfalls rise 100 meters! They form falls on three levels. The spectacle offered by these waterfalls is worth the detour. The Ouzoud Waterfalls are a very beautiful natural site to discover near to Marrakech. On the way you will have the opportunity to see beautiful landscapes and all the richness of flora and fauna in this region. In the rocks making up the wall of the waterfalls live monkeys.
Upon arrival at the Ouzoud waterfalls, enjoy delicious lunch with a view in front of the waterfalls.
During your Ouzoud Waterfalls day trip, you will also enjoy a good walk to discover the waterfalls and its surroundings. You can go to the very top of the waterfalls to admire the beautiful scenery.
You leave in 4X4 towards Marrakech once the visit is over.
Arrival in Marrakech at the end of the afternoon.
If you want to go to Ourika, discover our day trip program from Marrakech.
Departure from Marrakech at 9 AM.

Pick up at your hotel.

The distance is about 170 km Northwest of Marrakech, or 2h30 driving from the pink city. The Ouzoud waterfalls are located in the Middle Atlas.
Do you need ideas for visiting the surroundings of Marrakech?
We advise you to discover the beautiful Ourika Valley, the village of Imlil, the 3 Valleys, to plan a day trip in Agafay...

You can also plan a camel ride in the palm grove of Marrakech or a quad biking tour.
Contact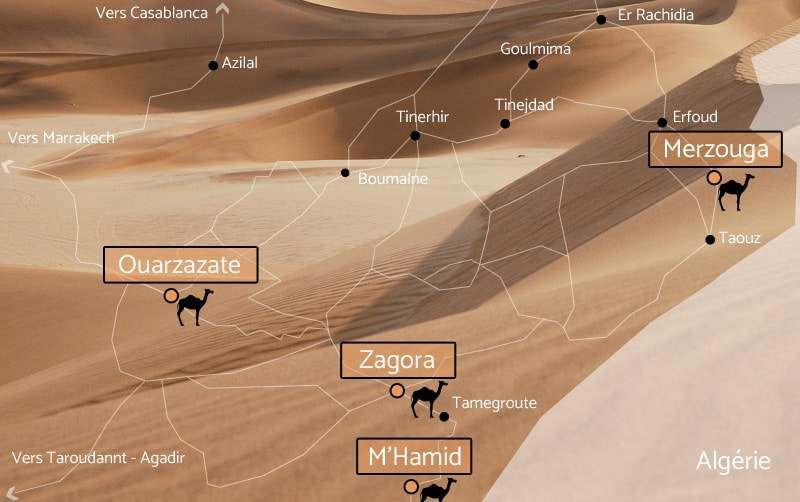 Our agency is located in M'hamid El Ghizlane, in Southern Morocco, Zagora province.
Pat: 47725024 RC 309/2809 No. IF 31832047
Message
We will be happy to answer your questions. Do not hesitate to contact us for any information related to your Morocco desert excursion tour. We will get back to you as soon as possible.
+33 628 568 405

contact@excursion-desert-maroc.com