Agafay desert tour
Inforgettable tour to the Marrakech desert
Agafay desert tour
Agafay desert tour – Marrakech desert tour – Excursion to Agafay desert – Excursion to the Marrakech desert – Tour to Agafay desert – Luxury camp Agafay
We offer you an unforgettable excursion to the Agafay desert, located in the immediate vicinity of Marrakech. This is a tailor-made luxury excursion tour from Marrakech.
Here are two formulas for this Agafay excursion tour that can be personalized:
Lunch and swimming pool in a luxury Agafay camp
This half-day Agafay desert tour allows you to enjoy the excellent cuisine in one of the luxury camps in the Marrakech desert and the swimming pool in front of a breathtaking view.
What you can except from this desert excursion to Agafay ?
Private 4×4 transport to the desert of Marrakech,
Lunch in a luxury camp in Agafay (the menu is prepared by the chef who adds a pinch of creativity),
Possibility of enjoying the outdoor swimming pool;
You will be back to Marrakech in the end of the day.
This Agafay tour is excellent for getting out of the city of Marrakech, marveling at the magnificent landscapes of the Agafay desert, relaxing, recharging your batteries, taking time for yourself. This excursion is also ideal for spending a romantic moment.
If you want to live this moment even more fully, let us know what you want: private visits or other activities organized for you and those who accompany you can be added to the program (camel tour, quad biking), as well as an overnight stay in an Agafay luxury desert camp.
Agafay desert tour for the sunset
Another option for a private and tailor-made Agafay desert excursion from Marrakech is a trip for sunset.
During this Marrakech desert tour enjoy:
Private round trip by 4X4 to Agafay from Marrakech,
A one hour camel ride for the sunset,
Dinner in a luxury camp at Agafay, in an idyllic setting.
You don't have to worry about anything! We take care of the organization. The round-trip private transportation is included in the package. You will only have to enjoy the landscapes and this outing in the desert of Marrakech. On site, the atmosphere is magical, to which must be added the sunset, the outdoor walk, and the delicious dinner at the luxury camp!
You can extend your experience in the Agafay desert with an overnight stay in a luxury camp.

The tents have all the necessary comfort and are very tastefully decorated.
Refinement and elegance are undoubtedly the two words to describe the interior!

The camel ride is a great classic but know that the luxury camps in Agafay offer different activities such as quad biking, horseback riding, yoga retreat...
The Agafay desert tour can be a great surprise or gift for someone who matters to you.

We take care of preparing the gift card that goes with it!
The excursion to Agafay, to the desert of Marrakech, can be organized for yoga courses which are held there regularly.

Do not hesitate to contact us for the dates of the courses, their duration etc. Usually, these are weekend or weekly yoga retreats.

If you want to practice yoga in Marrakech, also think of the Agafay desert!
Contact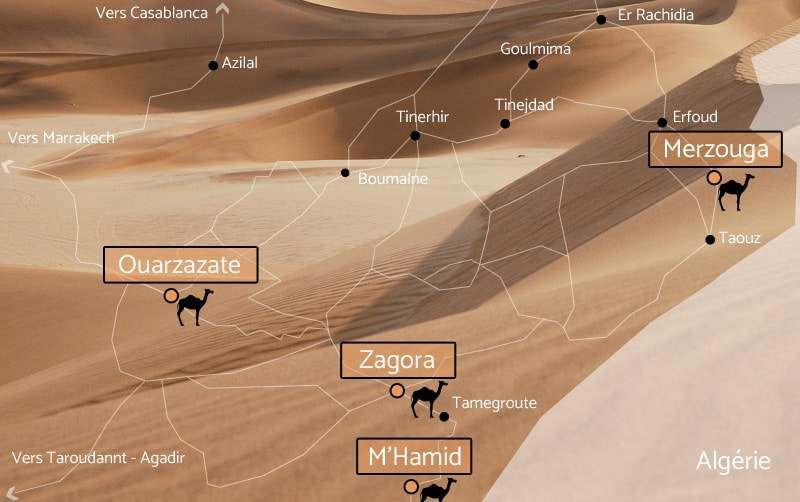 Our agency is located in M'hamid El Ghizlane, in Southern Morocco, Zagora province.
Pat: 47725024 RC 309/2809 No. IF 31832047
Message
We will be happy to answer your questions. Do not hesitate to contact us for any information related to your Morocco desert excursion tour. We will get back to you as soon as possible.
+33 628 568 405

contact@excursion-desert-maroc.com