Agafay desert tour
Inforgettable tour to the Marrakech desert
Agafay desert tour
Agafay desert tour – Marrakech desert tour – Day tour Agafay desert – Tour to the Marrakech desert – Luxury camp Agafay – Marrakech Agafay tour camels and quad
We offer you an amazing excursion in the Agafay desert. Enjoy a timeless Marrakech desert tour. Here are our two Agafay desert tours from Marrakech.
Lunch and pool pass Agafay luxury camp
This Agafay desert tour is perfect to enjoy a beautiful moment in the desert of Marrakech. You will like the delicious Moroccan meals. And you can refreshing in the pool of the camp. Also appreciate the oriental and chic atmosphere of the Agafay camp and the breathtaking view of the desert. After lunch, you can enjoy activities in the desert of Marrakech.
This Agafay tour from Marrakech includes:
4×4 private transport with driver,
Lunch in a luxury camp in Agafay, pool pass,
a camel ride (1h),
a quad or buggy tour (1h);
This Marrakech desert tour is great for:
get away from the city,
discover the landscapes of the Agafay desert,
relax.
This tour is also ideal for spending a romantic moment. Other activities could be planned like a short hike in the Agafay desert, horse riding, etc. And also, one night in a luxury camp.
Agafay desert tour with dinner and camels for sunset
Another very popular Agafay desert tour: camel ride for sunset and romantic dinner in a luxury camp.
This Marrakech tour includes:
4×4 private transport with driver,
a one-hour camel ride for the sunset in Agafay,
a romantic dinner in Agafay in a luxury camp, in an idyllic setting.
You don't have to worry about anything! We organize everything. You will enjoy this tour in the desert of Marrakech. The atmosphere is so cool : sunset, camel ride, and delicious dinner at the luxury camp! We can add also a quad or buggy biking tour at this Agafay experience!
Agafay desert with luxury camp overnight stay
The tents have all the necessary comfort and are very tastefully decorated.

Refinement and elegance are undoubtedly the two words to describe the interior!
Camel tour in Agafay for the sunset

The camel ride for the sunset is a great classic in the desert.
But know that in Agafay you can do different activities such as quad biking, buggy tour, horseback riding, bike, yoga classes...
The Agafay desert tour can be a great surprise or gift for someone who matters to you.
We take care of preparing the gift card that goes with it!
Romantic dinner in Agafay

The excursion to Agafay is an excellent opportunity to spend a romantic moment in front of an extraordinary setting.

The Agafay excursion from Marrakech allows you to share a romantic dinner in the desert.

The camel ride for the sunset brings an extra touch of magic to this outing in the Marrakech desert.

You can opt for a Agafay desert tour that also includes a quad biking!
Contact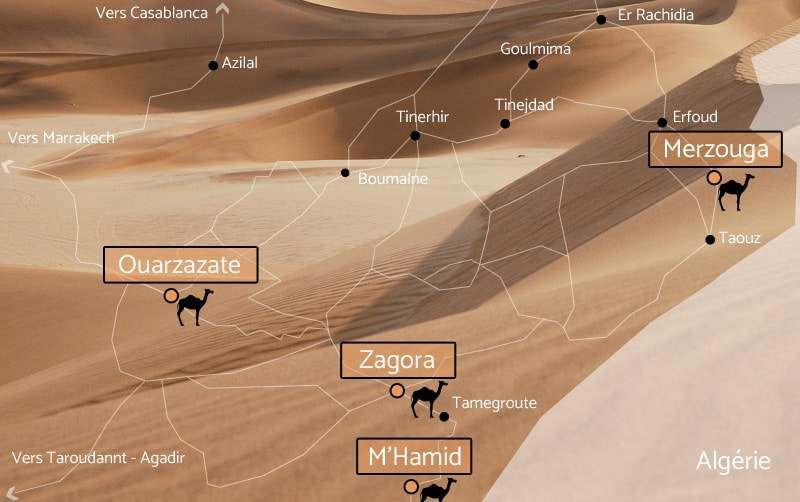 Our agency is located in M'hamid El Ghizlane, in Southern Morocco, Zagora province.
Pat: 47725024 RC 309/2809 No. IF 31832047
Message
We will be happy to answer your questions. Do not hesitate to contact us for any information related to your Morocco desert excursion tour. We will get back to you as soon as possible.
+33 628 568 405

contact@excursion-desert-maroc.com