Marrakech desert camp
Overnight in the Agafay desert
Desert camp Marrakech – Agafay luxury experience
Desert camp Marrakech – Agafay luxury camp – Agafay camp overnight – Marrakech luxury camp – Agafay desert camp – Overnight in the desert of Marrakech – Desert camp near Marrakech
Agafay camp overnight
Enjoy an unforgettable Agafay overnight experience in the Marrakech desert during your Morocco holidays. The Agafay luxury camp overnight is a favorite of travelers. Take advantage of an original and exotic excursion without going far from Marrakech.
It's possible to do a Marrakech desert tour 1 overnight. Or choose a Marrakech day trip to Agafay. Also enjoy different activities in Agafay !
The desert of Marrakech: a desert of stones
The desert of Agafay is a stones desert located near Marrakech. Its colors recall the golden dunes of the Sahara. The High Atlas mountains complete this magnificent landscape of nature. The calm, the silence, the beauty of the camps invite you on a timeless journey in the Agafay desert… The visit to the Marrakech desert allows you to do a camel tour, a quad or buggy biking.
Those who prefer sand dunes will have to travel a longer distance to go further to southern Morocco. Our desert tours from Marrakech allow you to discover Merzouga and Erg Chigaga.
Overnight in a Agafay desert camp
During your Morocco stay, you will appreciate one or more nights in the Marrakech desert. You will spend the Agafay overnight in a camp. The tents of the camp are like the tents of the nomads of the Sahara… The Agafay luxury camps offer all the comfort necessary for a pleasant stay in the desert of Marrakech. Also enjoy a moment of relaxation by the pool and admire the breathtaking view of this exceptional natural site.
Luxury desert camp Marrakech
For an amazing stay in the Marrakech desert, choose a night in a luxury camp in the Agafay desert. The luxury camp has spacious tents with private bathroom and lounge area, large beds, quality hygiene products, private relaxation area for each tent, designer decoration, swimming pool, …
The luxury desert camp Marrakech is also a place to contemplate magnificent landscapes ranging from desert canyons to the snow-capped peaks of the High Atlas. At the Marrakech desert luxury camp you enjoy high-quality cuisine and specially designed menus to ensure a gourmet and refined culinary tasting.
Activities to do in the desert of Marrakech:
4×4 tour to discover the Atlas mountains and the Agafay desert,
romantic lunch in a private tent in the desert of Marrakech,
lunch/pool in Agafay,
evening with sunset and romantic dinner in the desert of Marrakech,
Agafay camel tour,
quad or buggy ride,
4×4 tour,
one-day hike with a camel caravan in Agafay;
Overnight in the Agafay desert for a special event
Visiting the desert of Marrakech and spending a stay in a luxury camp in Agafay is a great way to discover the desert around Marrakech. The atmosphere of the camps in Agafay offers you a pleasant change of scenery. Mark your events such as birthdays, wedding anniversaries, seminars with a stay in Agafay. Or take a weekend getaway to this beautiful natural site. Thematic workshops can be organized according to your wishes.
How to get to the Agafay desert?

You can go to the desert of Marrakech by your own means of transport, for example, if you rent a car or a 4X4.

We can also arrange a private transfer for your stay in the Agafay desert.
Enjoy a private tour to Agafay from Marrakech.
Can we customize the overnight stay in the Marrakech desert camp?
It is quite possible to organize a tailor-made stay in the Agafay desert.

Do you want to practice specific activities?

Sleep in a luxury camp in the desert of Marrakech or in a classic camp?

Celebrate an event in particular?

Do relaxation and meditation?

Organize team-building activities?
If you have enough time during your stay in Marrakech, you can go down to the Sahara.

Available desert tours from Marrakech: 3-day Marrakech to Merzouga tour or a Marrakech Sahara trip to M'hamid.

Marrakech to Erg Chigaga tour 3 days is also available.

In the Sahara desert, you will also enjoy overnight stays in traditional or luxury Morocco desert camp.

A 2-day trip to Zagora from Marrakech is also possible.

If you go to the Sahara, you can try the sandboarding on the dunes.
Contact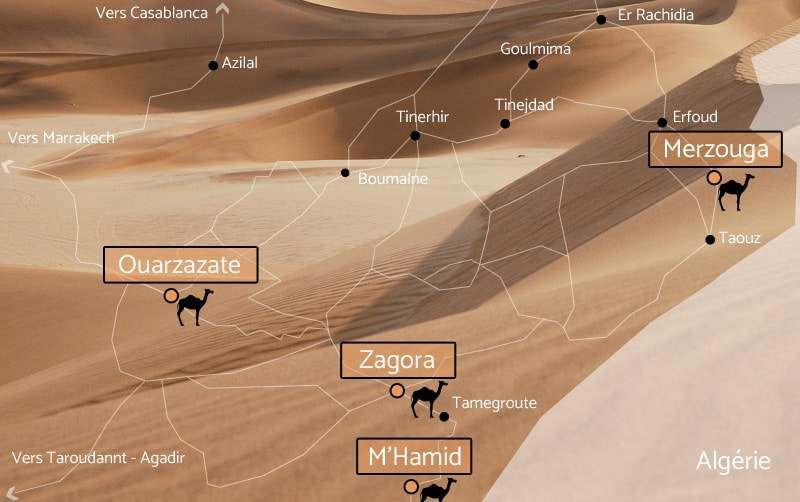 Our agency is located in M'hamid El Ghizlane, in Southern Morocco, Zagora province.
Pat: 47725024 RC 309/2809 No. IF 31832047
Message
We will be happy to answer your questions. Do not hesitate to contact us for any information related to your Morocco desert excursion tour. We will get back to you as soon as possible.
+33 628 568 405

contact@excursion-desert-maroc.com