2 nights in Merzouga desert
3 day Erg Chebbi desert tour
2 nights in Merzouga desert
2 nights in Merzouga desert – Merzouga desert tour – Erg Chebbi desert tour – Sahara excursion – Morocco desert tour – Merzouga camp – Morocco tour – Morocco Sahara desert excursion
Camel ride in Erg Chebbi and nomadic camp
Departure from Merzouga. The camel caravan advances in the sand of the Erg Chebbi desert, it is time to enjoy some of the most beautiful landscapes and dunes of the Moroccan desert, the sun, the silence.
You climb one of the big dunes of Erg Chebbi to admire the sunset. After this break, you continue your way to the bivouac located in the desert. At the nomadic camp, you leave the camels for dinner and spend the evening around the fire lulled by the rhythms of the djembes. Enjoy this moment of the 2 nights in Merzouga desert! Overnight stay in Erg Chebbi camp.
2nd day of your Morocco desert tour
After breakfast, your guide will take you on a 4×4 tour of the Erg Chebbi dunes! On the day's program: visit of the nomads who live in the desert and discovery of the villages around Merzouga. The 3-day Merzouga desert trip promises great encounters and interesting discoveries!
Return to the nomadic camp in the afternoon after this moment of Sahara desert adventure! You will have time to enjoy the dunes of Erg Chebbi before spending your 2nd night in the Merzouga desert.
3 day of your Morocco desert stay in Erg Chebbi
After breakfast in the morning, you take the camels back to leave the nomadic camp. Arrival before noon in Merzouga.
Are you looking for a 3 day Marrakech to Merzouga desert tour ?
2 nights in Merzouga desert
One of the advantages of this excursion in the Sahara are the two nights in a nomadic camp in Erg Chebbi.

During this Merzouga excursion tour, enjoy two camel ride in the dunes of Erg Chebbi.
This 3-day Merzouga desert tour allows you to enjoy a 4x4 day tour at Erg Chebbi and discoveries in the surroundings, to meet the nomads!

On the last day of your 3 day Morocco desert tour in Merzouga, we can organize an extra quad activity!
Or sandboarding! So ready to try the quad in the dunes of Erg Chebbi or the sandboard?
Contact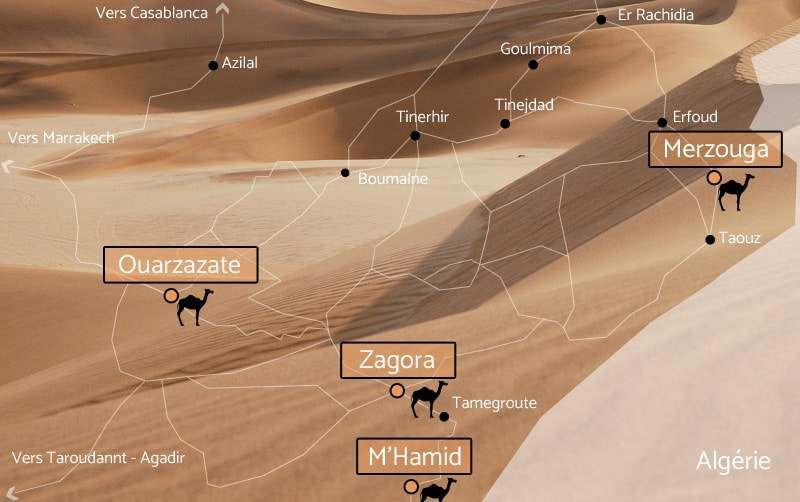 Our agency is located in M'hamid El Ghizlane, in Southern Morocco, Zagora province.
Pat: 47725024 RC 309/2809 No. IF 31832047
Message
We will be happy to answer your questions. Do not hesitate to contact us for any information related to your Morocco desert excursion tour. We will get back to you as soon as possible.
+33 628 568 405

contact@excursion-desert-maroc.com