Merzouga camel ride
Discover Erg Chebbi on camels!
Merzouga camel ride
Merzouga camel ride – Erg Chebbi camel tour – Sahara camel riding – Merzouga camel tour – Merzouga camel trip
Merzouga camel ride for a day
For this desert Morocco desert tour, you will find your guide in Merzouga in the morning around 8 AM or 9 AM. Your camel excursion tour in the big dunes of Erg Chebbi can begin. On the back of the dromedaries, you will advance in Erg Chebbi leaving the landscapes of the Sahara unveiled before your eyes … The silence and calm are at the rendez-vous. You enjoy a Merzouga camel ride on the largest dune of Erg Chebbi to admire the surrounding landscapes. The sun's rays play with sand dunes and you can admire the colors that change during the day …
At noon, break for lunch. Picnic in the shade in the Morocco desert. Picnicking in the desert is also a moment you will enjoy during your Merzouga camel tour. Lunch sitting on the dunes, in the shade, is one of the advantages of this Morocco desert tour. This is an opportunity to meet with your guides who are from the region. They will give you details about the culture and traditions of Sahrawi nomads.
In the afternoon, your Merzouga camel ride continues. Taste the tea prepared by your hosts before admiring the sunset over the most famous Moroccan dunes! You can also enjoy an hour or more of quad biking in Erg Chebbi dunes !
How to get to Merzouga for your camel trip?
You can go to Merzouga in many ways during your holidays in Morocco. The trip to the Sahara is a very good idea of ​​activity and discovery of this region of the country. You can also enjoy an overnight stay in Erg Chebbi, before or after your Merzouga camel ride.
You have the possibility to rent a car and make the trip on your own. You can also arrive for your Merzouga camel tour by taking a bus, either Marrakech, Fez or Ouarzazate. The Fez bus is a bus that travels at night and allows you to be in Merzouga around 7 AM. Starting from Marrakech, you can be in Merzouga rather in the evening, around 8 PM.
Merzouga camel tour or Erg Chegaga desert trip?
You choose! Erg Chebbi or Merzouga is a place in the Moroccan desert much more visited and touristic than Erg Chegaga. But both deserve to be the object of a Morocco desert tour to discover them! The choice of the visit will depend essentially on your program and the other places you have decided to visit during your stay in Morocco. You can be sure that a Merzouga camel tour is an inforgettable experience!
Merzouga camel desert tour: departure at 8 AM - 9 AM

To know: a multi-activity Merzouga tour is possible.
Let's organize it together! It is conceivable to plan a Morocco desert trip of a day which foresees several different activities: Erg Chebbi camel riding tour and quad biking or sandboarding! Quad riding in Merzouga is one of the favorite activities of adventurers!
Optional: you can spend the night before your departure for this Sahara desert trip in a Merzouga hotel or in a Erg Chebbi desert camp.
It is also possible to spend a Merzouga overnight stay after the end of your Morocco desert tour. Enjoy traditional music around a campfire and a delicious meal. Not to forget to mention the starry sky in the desert ... the nights in the Erg Chebbi desert are unforgettable. You can also enjoy your stay in a hotel with a swimming pool or in a Merzouga luxury camp.
In order to fully enjoy this trip in the Morocco desert, we recommend that you plan 2 to 3 days.
So, ready to enjoy a Sahara experience in a Merzouga camp ?
Contact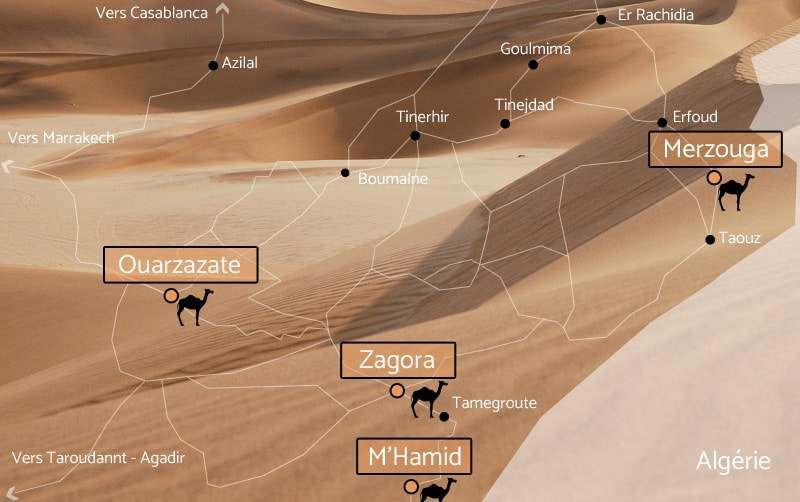 Our agency is located in M'hamid El Ghizlane, in Southern Morocco, Zagora province.
Pat: 47725024 RC 309/2809 No. IF 31832047
Message
We will be happy to answer your questions. Do not hesitate to contact us for any information related to your Morocco desert excursion tour. We will get back to you as soon as possible.
+33 628 568 405

contact@excursion-desert-maroc.com