Merzouga 4X4 day tour
4x4 Sahara excursion: more than a discovery, an adventure
Merzouga 4X4 day tour
Merzouga 4×4 day tour – Erg Chebbi 4×4 tour – Merzouga 4×4 excursion – Merzouga day tour – 4×4 Erg Chebbi excursion – visit Erg Chebbi by 4×4
This private 4×4 Merzouga day trip introduces you to the Sahara and the nomads who live there.
Merzouga 4×4 day tour: explore the Sahara Dunes
During this 4×4 excursion in the Moroccan desert, you will discover magnificent landscapes. Going by 4×4 on the tracks in Merzouga is also an experience of thrills!
At noon, enjoy a picnic in the Erg Chebbi desert. You take a break and moment of relaxation in the shade of the tamarisk. But it is also a moment of conviviality sharing lunch all together. Or you can enjoy lunch in a local restaurant.
This Merzouga 4X4 day tour continues in the afternoon. You go then to the Lake of Merzouga (which is not dry from November to May). At this place you can observe many birds that live in the desert.
Visit of the nomads living in the desert of Merzouga
Additionaly, you will also have the opportunity to visit the nomads who live in the desert and have tea with them.
You go back to Merzouga is in the afternoon. Then, the guide will drop you off at your accomodation. This 4×4 Merzouga tour will leave you inforgettable memories !
You can also choose a day camel trip in Erg Chebbi or a quad tour in the dunes of Merzouga.
Also a private Merzouga excursion including several activities can be planned.
Who are your guides for this Merzouga 4X4 excursion tour?
The guides are local nomads who know the desert inside out. They are used to driving on the dunes of the Sahara. Your guides know the places where you will have the best views over the Erg Chebbi dunes. They will answer all your questions and let you know more about the local culture and traditions, the lifestyle of the Sahara nomads.
Departure in the morning for this Merzouga 4x4 day tour: 9.30 AM

Can we enjoy a camel ride during the Merzouga 4X4 excursion?
It is possible to organize a tailor-made 4x4 Merzouga tour. We can include a camel tour in the afternoon for the sunset.
For a personalized excursion, do not hesitate to contact us.

You can share the lunch with nomads.
Where to stay in Merzouga?
If you want to spend one or more nights in Merzouga to fully enjoy your desert activities and Sahara holidays, we can organize a Merzouga desert camp stay.
You could also opt for a Merzouga luxury camp. An overnight stay in Erg Chebbi camping is very appreciated by travellers!
Is it possible to get a private transfer to Merzouga?
We can organize a tailor-made Merzouga desert tour.
Among the most popular:
- Marrakech Merzouga trip 3 days,
- Ouarzazate Merzouga tour 2 days,
- Casablanca Merzouga excursion 4 days.
Contact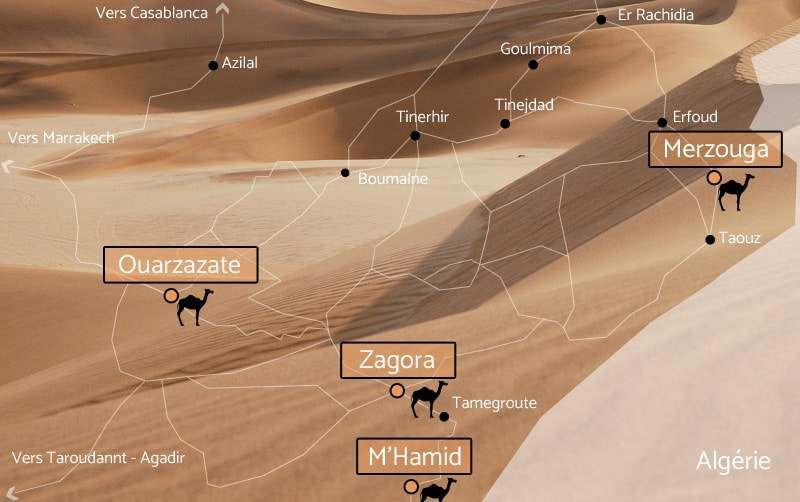 Our agency is located in M'hamid El Ghizlane, in Southern Morocco, Zagora province.
Pat: 47725024 RC 309/2809 No. IF 31832047
Message
We will be happy to answer your questions. Do not hesitate to contact us for any information related to your Morocco desert excursion tour. We will get back to you as soon as possible.
+33 628 568 405

contact@excursion-desert-maroc.com