Merzouga quad biking
Try the quad riding in the Morocco desert!
Merzouga quad biking
For this Morocco desert tour, we offer a Merzouga quad biking excursion.
Do you like intense sensations ? Trying new things? Looking for adventure? This Merzouga quad day activity is for you! In the morning, around 9 AM, you meet your guide. Then left for 1h30 – 2h of quad riding in the desert of Erg Chebbi! The quad will allow you to discover the Sahara differently than in 4X4 or camels.
At noon, break for lunch. Picnic in the desert, in a shady place. After a moment of relaxation in the shade, you leave for another 1h30 of Merzouga quad tour in the afternoon. Back to the starting point. End of the Merzouga quad riding. You can relax in a nomadic tent in one of the Merzouga desert camps and enjoy a night of traditional music! Discover Erg Chebbi thanks to a Sahara quad tour!
Merzouga quad biking and camels?
It's possible! Also, know that we can organize excursions and Morocco desert tours that combine several activities. Just contact us and we will find the formula that suits you the most. You can also have a meal or tea with local people. In addition, it is possible to make a Merzouga camel desert tour or Merzouga tour 4×4.
Where to go quad in Morocco?
The desert is often a popular place to practice the quad. In Merzouga you can do quad riding. It is in Merzouga that are some of the largest dunes in Morocco. Other places to practice the quad: Ouarzazate, M'hamid, the desert of Marrakech, … The Merzouga quad biking tour is one of the most popular!
Can we organize a quad activity in Merzouga as part of a Morocco desert tour?
It is quite possible to predict the quad biking as part of a Merzouga desert tour or the return of a camel trekking program … We adapt our programs to your wishes. So ready for a Merzouga quad excursion?
Quad Merzouga for groups

Do you travel to more than one? You want to organize an activity for the whole group? Contact us to take advantage of a group quote.
Overnights in Merzouga:

Want to stay one or more nights in Merzouga to enjoy your Morocco desert trip? We can organize your stay on site. You can choose nights in Merzouga desert camp (nomadic tents), Merzouga luxury desert camp or hotel with a swimming pool.

To know: you can also do sandboarding in Merzouga. The sandboard is practiced with a snowboard but on the dunes! A stay in a Merzouga desert camp can include activities like quad riding in Erg Chebbi ou sandboarding!
Contact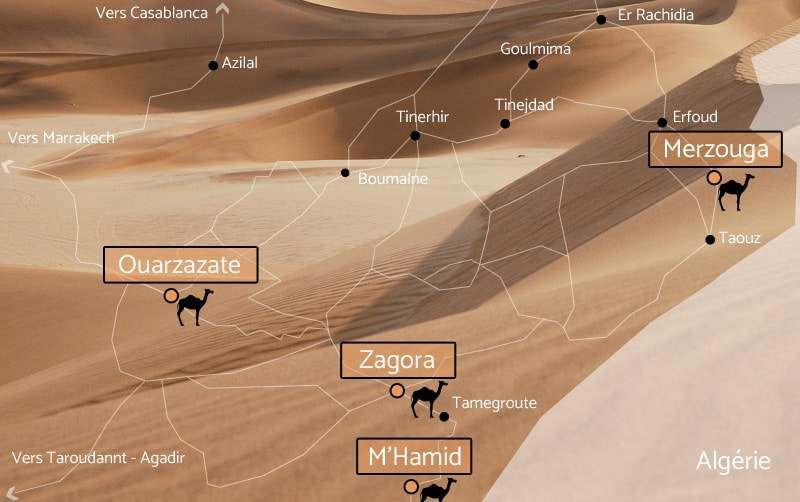 Our agency is located in M'hamid El Ghizlane, in Southern Morocco, Zagora province.
Pat: 47725024 RC 309/2809 No. IF 31832047
Message
We will be happy to answer your questions. Do not hesitate to contact us for any information related to your Morocco desert excursion tour. We will get back to you as soon as possible.
+33 628 568 405

contact@excursion-desert-maroc.com