Visit of the 6 Kasbahs of the Oasis
4x4 M'hamid day tour
4×4 M'hamid day tour : visit of the 6 Kasbahs of the Oasis
4×4 M'hamid day tour – M'hamid desert tour – Morocco Sahara excursion tour – 4×4 trip from M'hamid – M'hamid excursion tour – Camel tour from M'hamid
You start this 4×4 M'hamid day tour in the morning accompanied by your local guide. This Morocco desert tour from M'hamid can begin. Your Sahara desert trip will make you visit the 6 kasbahs of the village whose name means "the plain of gazelles".
This 4×4 tour from M'hamid is a beautiful way to visit this village located at the gates of the Moroccan desert.
Note that in M'hamid, a Sahrawis nomads village, there are several ethnic footprints: Arabic, Berber, Saharawi, Jewish. Your M'hamid excursion will make you discover the various hidden treasures of this multi-faceted culture.
4×4 M'hamid day tour : visit of the Kasbahs of the village
During your M'hamid desert tour you will make a visit of each of the Kasbahs mentioned below (the order of visits may vary):
Ouled Driss,
Bonou,
Talha,
Sidi Khalil,
Zaouya,
The Kasbah of M'hamid ;
Lunch will be taken in the Kasbah of M'hamid. You will share a traditional meal with the inhabitants of the Kasbah. It is a privileged moment to discuss local culture and traditions.
M'hamid excursion: camel tour in the Sahara
After lunch, you will leave the palm grove of the Oasis and take the direction of the dunes. Accompanied by the camel caravan, you will walk for about 1 hour before taking a break in the shade of the palm trees. Your M'hamid excursion continues. You then leave in 4×4 to see the Douib dune. After an unforgettable sunset in the Sahara, you can extend your excursion with a night in a nomadic camp.
At the camp, you will sleep in traditional nomadic tents and enjoy entertainment with Sahrawi music. Try this authentic one night experience in the Moroccan desert! Take advantage of your stay in Morocco to visit its desert, relax and discover the life of nomads.
For a one-day M'hamid camel excursion, here is our hiking program that can be personalized!
Duration : 1 day

Start between 8:00 AM and 9:00 AM

Your guide will come to pick you up and you will go by car for this Morocco day desert trip.

Return between 6:00 PM and 7:00 PM.

In the evening, you can enjoy a hammam in the village. For women, it is possible to opt for henna.
At the desert camp (*optional), you will enjoy an evening around the fire and entertainment (traditional music).

This desert excursion is an original idea for your holidays in Morocco.

Enjoy your trip to Morocco to discover the life of nomads for a day!

Note that the road between Ouarzazate and M'hamid travels the Drâa Valley and the trip to the Moroccan desert is worth it.

The distance between Ouarzazate and M'hamid is 260km, or 4h30 drive.
The village of M'hamid is known to be the starting point for camel treks in the Moroccan desert.

You can do Morocco desert trek lasting between 2 days to 15 days!
Contact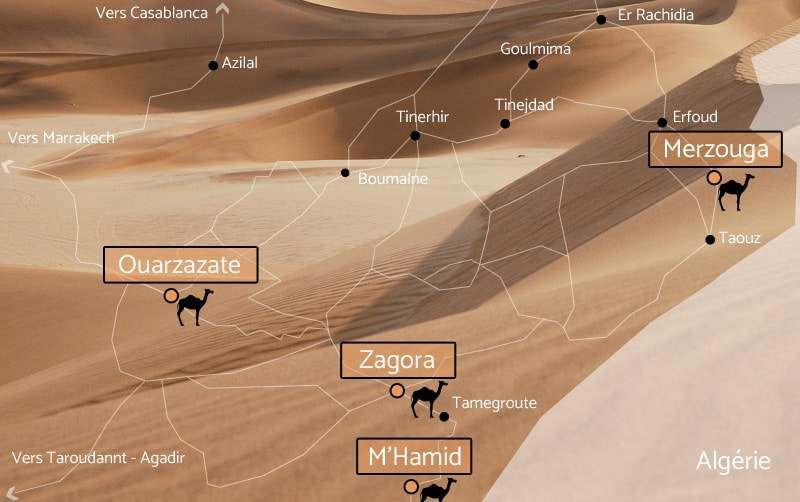 Our agency is located in M'hamid El Ghizlane, in Southern Morocco, Zagora province.
Pat: 47725024 RC 309/2809 No. IF 31832047
Message
We will be happy to answer your questions. Do not hesitate to contact us for any information related to your Morocco desert excursion tour. We will get back to you as soon as possible.
+33 628 568 405

contact@excursion-desert-maroc.com