BLOG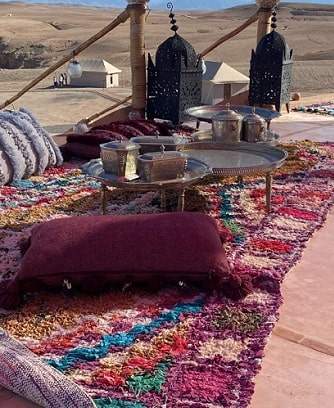 Agafay tour : Nomadic and Chic Experience in the Marrakech desert
Agafay tour : The Agafay desert is one of the trendy gems around Marrakech. Its immediate proximity to the pink city and the splendid landscapes attract travellers. The summer months are a great time to enjoy lunch at a luxury camp in Agafay and chill by the pool. You can also opt for a camel ride for the sunset and a romantic dinner in the desert of Marrakech. Focus on these moments and the activities that can be practiced in Agafay.
Agafay tour : pool, lunch and camel ride – chill out in a dream setting
If you are staying in Marrakech and looking for activities, what better than to visit Agafay! The Marrakech desert is about a thirty-minute drive from the pink city. Agafay is a great place to spend a day.
The Agafay pool experience allows you to benefit from: a late morning departure (11 a.m.), a private transfer from Marrakech, lunch in a luxury camp in Agafay, and a moment of relaxation at the swimming pool. Cool off in the swimming pool while sipping a cocktail and admiring the magnificent landscapes of the Marrakech desert. The return to Marrakech is done at the end of the afternoon.
This excursion in the Marrakech desert also allows you to do activities such as a camel ride in Agafay or a quad or buggy ride.
Sunset and a romantic dinner in the desert of Marrakech
Another favorite excursion is dinner in the Agafay desert. Go for a romantic dinner in the desert of Marrakech! Departure for this excursion is in the afternoon (3 p.m. or 4 p.m.). Benefit from pick-up at your hotel for this unforgettable experience.
Once you arrive in Agafay, you first take a camel ride for the sunset. Then your driver will drop you off at the camp for dinner. For lovers who wish to enjoy a romantic moment for two, it is possible to opt for a dinner under a private tent. After dinner, your driver will take you to your hotel in Marrakech.
The Marrakech desert dinner excursion is perfect for sunset lovers who would like to see the sunset in Agafay. It's a romantic interlude during your holidays in Marrakech.
Agafay tour – a camel trek off the beaten track
We offer you an original experience to discover the desert of Marrakech. This is a half-day hike in Agafay (or a full day) with the camel caravan. During this Agafay tour, you will also enjoy lunch in a nomadic tent set up for the occasion in the middle of the desert. It is an outdoor and sporting activity that allows you to discover the desert in another way. If you are looking for an original excursion in the desert of Marrakech, this one is without a doubt!
This hiking excursion in the Agafay desert includes private transfer.
Visit of Agafay and the Valleys around Marrakech – a mix of nature and local culture
For the curious and those who want to make the most of discoveries, we have an Agafay excursion which includes a visit to the Valleys around Marrakech.
This experience is perfect if you want to see an impressive change of scenery. You start with a tour in the mountains and the green valleys (Ourika, Ouirgane, …) before enjoying lunch or dinner in Agafay.
During your visits to the Valleys, go for a short walk or have tea with a local Berber family.
In Agafay, the landscapes change and become arid. Here, you can go for a camel or quad ride before landing at the camp.
Contact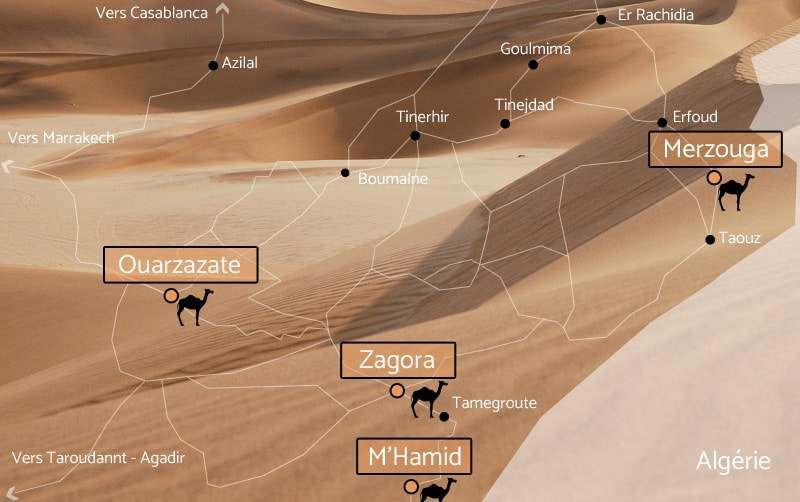 Our agency is located in M'hamid El Ghizlane, in Southern Morocco, Zagora province.
Pat: 47725024 RC 309/2809 No. IF 31832047
Message
We will be happy to answer your questions. Do not hesitate to contact us for any information related to your Morocco desert excursion tour. We will get back to you as soon as possible.
+33 628 568 405

contact@excursion-desert-maroc.com