BLOG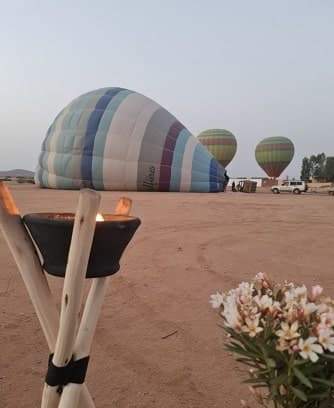 Balloon flight in Marrakech
Balloon flight in Marrakech: here is another way to discover the beauty of the pink city and its surroundings! If you are looking for an original activity in Marrakech that will give you thrills, a hot air balloon flight over Marrakech is the perfect idea! Here is everything you need to know about the ballooning experience in Marrakech!
Sunrise hot air balloon ride in Marrakech
To enjoy this amazing experience, you must get up early because the hot air balloon ride in Marrakech is scheduled for sunrise. This is when the weather conditions are most favorable.
You must be at the departure village at 7AM, so ready for pick-up in Marrakech around 6AM to 6:30AM.
But no worries, before starting the hot air balloon flight in Marrakech, you are offered a welcome with tea, coffee, fruit juice and cakes.
What will you see during the hot air balloon ride in Marrakech?
What can you see during hot air balloon rides in Marrakech?
You should know that the flight zone most often starts from a village located north of the palm grove in Marrakech. You will therefore have panoramic landscapes of the Atlas mountains (if good visibility), the Jbilets mountains, a valley, villages, the city of Marrakech…
It goes without saying that the views are breathtaking. The altitude of the balloon varies during the flight, which adds charm to this experience.
Also, as the sun rises, the colors change for even more magic!
Please note: there is a hot air balloon flight over the Marrakech desert. Flying over Agafay is an unforgettable and unique experience.
The duration of the balloon flight in Marrakech
The hot air balloon flight over Marrakech lasts approximately 50 minutes to 1 hour. The duration depends on weather conditions.
To this duration, you must add another 3 to 4 hours for the activity. This is the transfer time from your hotel to the departure point of the hot air balloon ride in Marrakech.
Before the flight – gourmet welcome on site, preparation of the balloon and safety instructions.
And after the balloon flight in Marrakech ?
And after the flight, you go back to the departure village. Then, you receive a certificate about this flight, it's a nice moment to share!
And we offer you a good traditional Berber breakfast under a tent set up for this occasion.
Best hot air balloon ride in Marrakech
There are many options for testing hot air balloon ride in Marrakech. From the classic flight shared with a small group to the private flight to the luxury Marrakech ballooning.
Hot air balloon flight in Marrakech – the classic formula
This is what we recommend if you are looking to have a great experience shared with other travellers. It is also suitable for a family activity in Marrakech or an experience to share with friends.
The package includes the round-trip transfer, a welcome tea and coffee, traditional berber breakfast, and certificates for this flight.
Private hot air balloon ride Marrakech
This formula can be a good idea for a couple's activity in Marrakech. And especially if you want to offer your partner an extraordinary romantic moment. And why not make a very special marriage proposal above the beautiful city of Marrakech?
You can choose what to include in this private hot air balloon ride in Marrakech.
A balloon flight in Marrakech in complete privacy and simplicity ? Or a flight with drinks during the trip, or even a gourmet breakfast served in the balloon ?
The hot air balloon flight in Marrakech can also be an excellent gift for different occasions: birthday, wedding anniversary, a success to celebrate, etc.
The hot air balloon ride can be added to other excursions and visits to the pink city, such as a night stay in Agafay.
Special events, incentives and team building
Are you planning a special event in Marrakech? Birthday, wedding? Consider adding fantasy and magic with a tour of Marrakech from the sky…
If you are organizing a corporate event in Morocco, the hot air balloon ride is a moment to share with your teams. Do you want to reward the good results of the employees? Give them an unforgettable trip!
Contact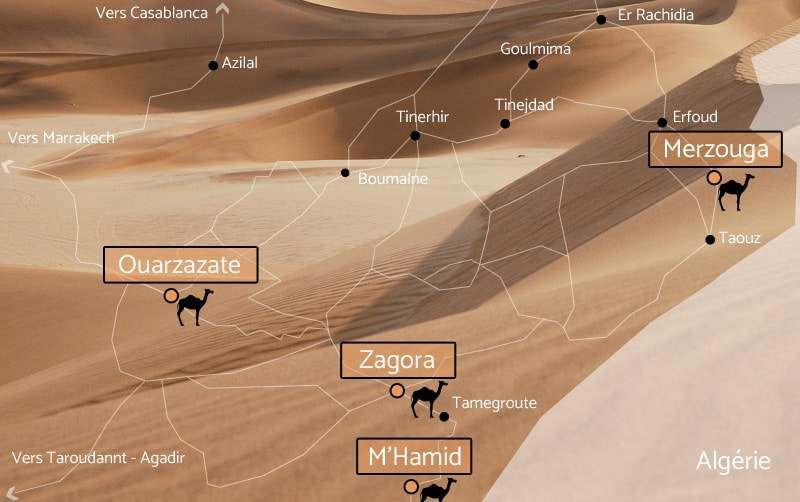 Our agency is located in M'hamid El Ghizlane, in Southern Morocco, Zagora province.
Pat: 47725024 RC 309/2809 No. IF 31832047
Message
We will be happy to answer your questions. Do not hesitate to contact us for any information related to your Morocco desert excursion tour. We will get back to you as soon as possible.
+33 628 568 405

contact@excursion-desert-maroc.com