BLOG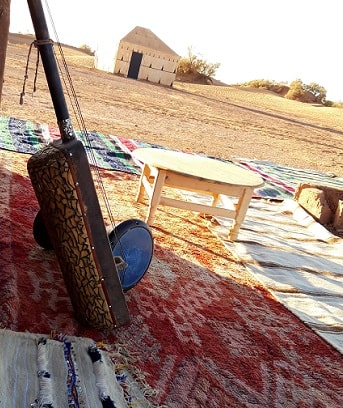 Morocco desert camp: a November stay
For this month of November and until mid-December, we offer very attractive rates for a stay of 3 days or 2 nights in the Moroccan desert. We welcome you to our Morocco nomadic camp located near the village of M'hamid El Ghizlane for a long weekend in the Sahara desert, in the sun and quiet. An original discovery of the desert, the culture of the nomads, a camel ride for the sunset, an exotic setting, delicious meals around the fire. A formula that can interest those traveling to Morocco with family, friends, …
November and December: it's good to go to the Sahara!
The months of November and December are months when it is good to spend a stay in the Moroccan desert during your holidays in Morocco. During the day, the temperatures are very pleasant (24 ° to 28 ° in November and between 14 ° and 20 ° in December). At night, temperatures can drop below 10 ° in November and up to 0 ° in December.
Morocco desert camp: discover the Sahara as far as the eye can see
One of the advantages of the proposed stay formula is the invitation to a trip in the desert that stretches for several kilometers around you. Less traveled because less known, but wilder and much larger than the desert of Merzouga, the M'hamid El Ghizlane's desert offers a real encounter with the desert. Dunes, desert plateaus, a desert that unfolds before you as far as the eye can see when you climb the dunes.
At about 2 hours of a track of M'hamid desert are the largest dunes of the Moroccan Sahara (Erg Chegaga) which are waiting to be explored by curious travelers and where sublime landscapes become magical under the caress the last rays of the sun…
Sahara desert camp stay: comfort and exotic setting
For your stay at the Morocco camp, you will enjoy nights in nomad tent equipped and decorated.
A large open tent decorated in a traditional way overlooking the surrounding dunes can dine comfortably while admiring the desert or tea with Saharawi nomads who will tell you about their culture.
A camel ride makes it possible to follow in the footsteps of the old sub-Saharan caravans that crossed the desert in the rhythm of camels.
A musical animation will transport you to a rhythmic and colorful universe.
To know: several airlines offer flight offers at very affordable prices in November and early December.
The nearest airport for M'hamid El Ghizlane is Zagora. (The trip between Zagora and M'hamid is 1h30). Another nearby airport is Ouarzazate (4h30 drive to M'hamid).
So ready for a weekend in the Moroccan desert?
Contact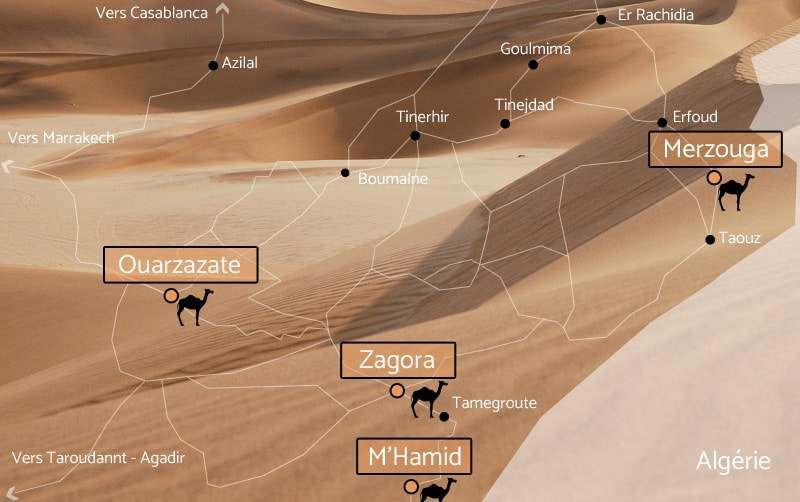 Our agency is located in M'hamid El Ghizlane, in Southern Morocco, Zagora province.
Pat: 47725024 RC 309/2809 No. IF 31832047
Message
We will be happy to answer your questions. Do not hesitate to contact us for any information related to your Morocco desert excursion tour. We will get back to you as soon as possible.
+33 628 568 405

contact@excursion-desert-maroc.com