BLOG
Morocco holidays in 2020: when plan your trip?
In April: spend an overnight in the desert of Marrakech or make a Morocco desert tour to the Sahara
In 2020, Monday April 13 is a holiday, so why not take advantage of an extended weekend to go out in the sun?
In April, the weather is very pleasant to spend a weekend in the Marrakech desert or even a night in the Sahara, leaving from Ouarzazate, for example.
From Ouarzazate, you can take the direction of Erg Chebbi (Merzouga), take a 2-day excursion from Ouarzazate to M'hamid El Ghizlane or Ouarzazate Erg Chegaga. The Ouarzazate Merzouga tour will introduce you to the Valley of Roses, the Dades Gorges and the Todra Gorges. The Ouarzazate Erg Chegaga trip will make you visit the beautiful Drâa Valley.
You can also simply stay in Ouarzazate and take an excursion to one of its Oases, in the Valley of the Roses, visit the movie studios or go quad biking in its surroundings, while taking the time to enjoy this break in the spring. Without forgetting the discovery of the Kasbah of Aït Ben Haddou. Change of scenery guaranteed for this 3-day weekend!
In May: it's good to escape to Morocco!
The month of May predisposes to holidays of a week. May 1 and 8 fall on a Friday this year. Ascension Thursday is May 21, 2020, so you can have a 4-day extended weekend. Without forgetting that Whit Monday is June 1. If you decide to leave (6 days) between Ascension Thursday and Whit Monday, you can go on vacation for 12 days! What to visit in May in Morocco? Here are some ideas:
The rose festival: May 9 and 10, 2020. Flowers, spices, the dazzling colors of Morocco! Without forgetting the intoxicating scents. Folklore, crafts, the discovery of the road of a thousand Kasbahs and the Valley of roses.
Quad biking in Ouarzazate and its surroundings,
Climb the Todra Gorges,
Take a camel ride in the Oasis of Skoura,
Go on a trek in the Valley of roses;
July: enjoy the coolness of the Atlas Mountains and the Atlantic coast
July 14 falling on a Tuesday in 2020, it is possible to escape for a weekend of 4 days if you set a day off on Monday.
In July, go on an excursion to the Atlas Mountains, explore the city of Marrakech, its unusual places, go for the day in the Asni Valley or the Ourika Valley. You can also go to the village of Imlil where you will have a splendid view of the Atlas peaks.
A stay in the Agafy Desert is also a great idea.
In summer, it is also good to go to the Atlantic coast. An excursion to Essaouira, a trip around Agadir, a stay in the Safran Valley …
November: stay in a desert camp Morocco
How about taking a long weekend in November to go out in the sun? November 11 falls on a Wednesday in 2020, so by asking 2 days off, here we are with 5 days to make a getaway to Morocco!
In November, it is good to go to the desert. In addition to a classic Sahara desert tour, we recommend a stay of 2 or 3 nights in a traditional nomadic Morocco desert camp. For those who like the comfort and high-quality experiences, luxury desert camp overnights in Merzouga, Erg Chegaga or M'hamid are to be planned.
You can also go for a 3-day camel trekking in the Morocco desert, near Merzouga or M'hamid El Ghizlane!
In December: enjoy a Morocco camel trekking in the Sahara and New Year's Eve in the desert!
For the holiday season, it is possible to plan a trip of a few days up to 10 days! December 25, 2020, being a Friday, by putting holidays for the following days (from December 28 to 31, or 4 days), which gives you more than a week of vacation. Hiking in the Sahara is very popular during this period.
And then, why not treat yourself to Christmas or New Years' Eve under the starry sky of the Sahara? New Year's Eve in the Moroccan desert is a special event, an evening colored by the rhythms of Sahrawi music, a magical evening where all wishes are allowed under the shooting stars…
Contact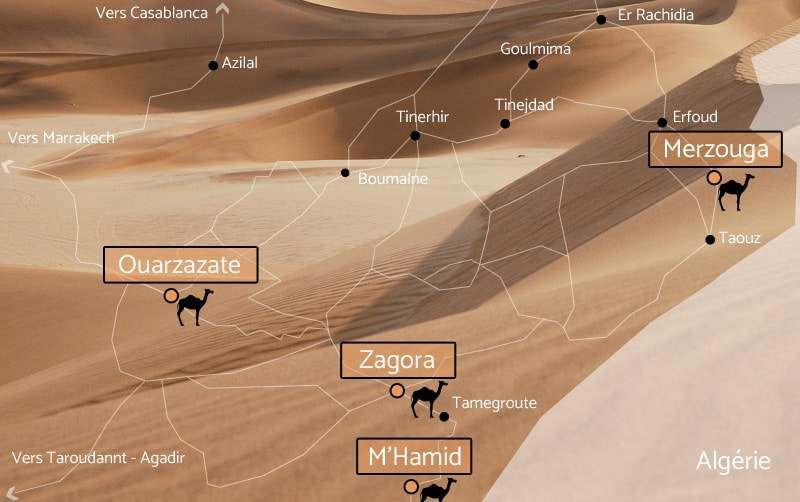 Our agency is located in M'hamid El Ghizlane, in Southern Morocco, Zagora province.
Pat: 47725024 RC 309/2809 No. IF 31832047
Message
We will be happy to answer your questions. Do not hesitate to contact us for any information related to your Morocco desert excursion tour. We will get back to you as soon as possible.
+33 628 568 405

contact@excursion-desert-maroc.com