Zagora desert camp overnight
Zagora luxury camp
Zagora desert camp overnight
Zagora desert camp overnight – Morocco desert overnight – Zagora camp – Bivouac Zagora – Morocco Sahara camp – Luxury camp Zagora – Glamping Zagora
Zagora is a city in southern Morocco which is about 1h30 from the dunes of the Sahara. Travelers like to go there for several reasons. Zagora is known for its palm grove, for its Kasbahs, and for its proximity to the Moroccan desert. Next to Zagora are the first sand dunes of the Moroccan Sahara, the dunes of Tinfou. In Zagora, there are also nomadic camps and luxury camps where you can spend an overnight in the desert.
Zagora desert camp experience
You plan to spend a night in the Zagora desert during your stay in Morocco.
Where to spend an overnight in Zagora? In addition to hotels and riads in Zagora, accomodation could be planned in a traditional Sahara desert camp. Ready for an authentic and original experience ?
The Zagora desert camp experience offers you the chance to spend the night in a nomadic tent. In the evening, enjoy also Sahrawi music around the fire. Admire the starry sky and discover the Sahrawi vibes…
Zagora luxury camp overnight
If you want to live a unique and unforgettable experience, you can opt for a night in a Zagora luxury camp.
The luxury camp offers a comfortable stay – decorated and well-equipped tent, very good quality of service, delicious meals…
The overnight stay in the Zagora desert in a luxury camp can be scheduled for a special event.
The surroundings of Zagora are worth visiting, but if you want a breathtaking view of the desert, you should go down to Erg Lihoudi or M'hamid El Ghizlane (1h30). Discover our 4×4 Zagora to Erg Chigaga tour!
The distance between Ouarzazate and Zagora is about 160km; about 2h30 by car.
You cross the beautiful Draa Valley through Agdz to Zagora.

Camel ride in Zagora (about 1 hour).

Distance Zagora to M'hamid El Ghizlane : 97km (1h20 trip).
Weekend in the Moroccan desert. Zagora accomodation. Weekend trip from Ouarzazate.

Idea for a discovery trip if you spend a night in Zagora
Overnight in a Zagora luxury desert camp
The next day, departure for the great dunes of Erg Chigaga by 4x4.
Lunch in the desert.
Arrival in the great dunes of Chigaga, camel ride and sandboarding.
Overnight in Erg Chigaga desert camp.
Contact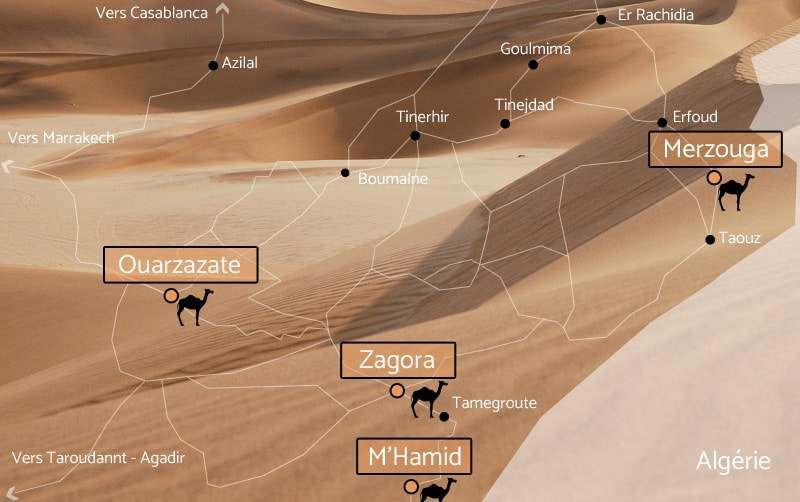 Our agency is located in M'hamid El Ghizlane, in Southern Morocco, Zagora province.
Pat: 47725024 RC 309/2809 No. IF 31832047
Message
We will be happy to answer your questions. Do not hesitate to contact us for any information related to your Morocco desert excursion tour. We will get back to you as soon as possible.
+33 628 568 405

contact@excursion-desert-maroc.com