Zagora desert tour to Erg Lihoudi
Visit the Jewish dunes
Zagora desert tour to Erg Lihoudi
Zagora desert tour – Erg Lihoudi excursion from Zagora – Morocco desert trip – Zagora overnight Sahara camp tour – Erg Lihoudi desert camp – Morocco Sahara camp – Zagora Sahara tour
The Zagora desert tour to Erg Lihoudi is ideal for discovering the Sahara. You will have the chance to spend an overnight in a Sahara nomadic camp. Enjoy also the Erg Lihoudi dunes and a music around campfire under the shiny stars.
Zagora desert tour to the Jewish dunes
This Morocco Sahara desert excursion from Zagora begins with a departure at 8 AM. Your driver will pick you up at the hotel. You then leave for a day trip to the Sahara.
You first take the paved road before continuing on the track in the desert. This excursion from Zagora has the advantage of showing you magnificent landscapes. Arrival in the Jewish Dunes (Erg Lihoudi) around noon, in time to enjoy lunch at the camp. After lunch, you will have time to enjoy the desert and the dunes.
Zagora Erg Lihoudi excursion: camels and night in the Sahara
In the afternoon you will enjoy a camel tour for the sunset. The camel riding in the Sahara also allows you to admire the landscapes.
You will spend a night in a nomadic camp in the Moroccan desert. After dinner, enjoy musical entertainment around the fire. Experience an original atmosphere under the stars. Meeting Sahrawi nomads during this Zagora to Erg Lihoudi desert tour brings a touch of authenticity.
The next morning, after breakfast at the camp, you leave for Zagora. On the way back you will change the route and you will pass through the village of M'hamid. You will pass through the villages of Tagounite and Tamgroute before arriving in Zagora.
This Zagora desert tour ends in the morning (around 10-11am).
Want to go further into the desert? Discover our excursion to the great dunes of Erg Chigaga from Zagora.
This Zagora desert tour can be organized with an afternoon departure.

Departure is at 3 PM.

The night in the desert can be organized in a classic nomadic camp or in a luxury camp.
You can also enjoy a camel ride for the sunrise.

When is the best time to do this desert trip from Zagora?
The Zagora excursion to Erg Lihoudi could be done between September and the end of May.

This is a private 4X4 tour.

Take advantage of this excursion to Erg Lihoudi to visit the pottery workshops in Tamegroute.

The green ceramics of Tamegroute are known throughout the country.
You can also make a stop at the Koranic library which contains very old manuscripts.
Contact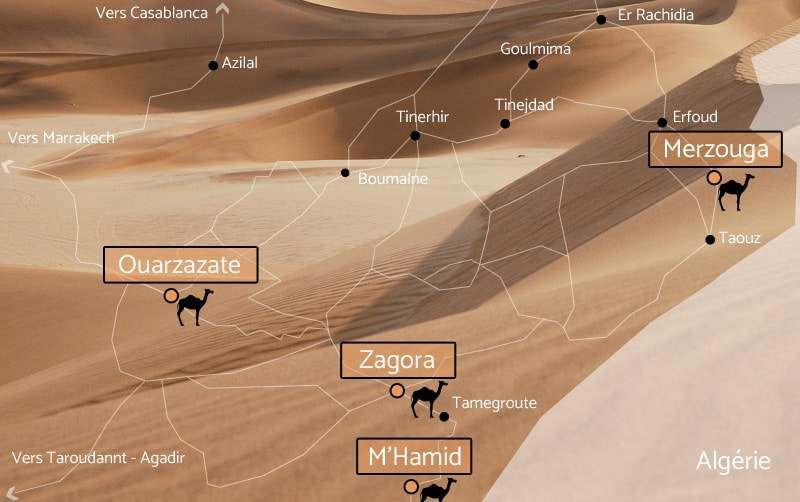 Our agency is located in M'hamid El Ghizlane, in Southern Morocco, Zagora province.
Pat: 47725024 RC 309/2809 No. IF 31832047
Message
We will be happy to answer your questions. Do not hesitate to contact us for any information related to your Morocco desert excursion tour. We will get back to you as soon as possible.
+33 628 568 405

contact@excursion-desert-maroc.com