Zagora quad biking experience
Zagora quad and buggy riding
Zagora quad biking
Zagora quad biking – Quad Morocco desert – Activity Zagora – Zagora quad tour – Buggy Zagora – Quad Sahara Morocco – Day quad tour Zagora – Quad excursion Zagora
Enjoy a quad biking tour in Zagora during your stay in South Morocco. The quad excursion is an amazing activity in Zagora. Visit the surroundings of Zagora by quad tour. This is such a original way to discover the palm grove and the dunes.
Zagora quad biking tour : great surroundings to explore
Zagora is a beautiful city in southern Morocco. At 1h30 from the Sahara desert, the city of Zagora arouses the curiosity of travelers.
If you are just passing through the city or if you are staying there for a weekend, a Zagora quad biking tour promises a moment of discoveries and thrills. During a Zagora quad excursion, you will go explore the palm grove of this South Morocco city or some of the dunes of the Sahara. Your guide will show you very nice places in Zagora.
1 hour quad tour in Zagora
The Zagora quad excursion can be planned for only 1 hour or 2 hours. During this short quad tour, you will discover the beautiful Zagora palm grove.
Half day quad tour in Zagora
If you are looking for a longer quad biking tour in Zagora, you can choose a half-day package. This longer quad excursion starting in the morning or in the afternoon, is full of discoveries. The tour can include tea with a local family.
A day Zagora quad biking excursion
Thanks to the one-day quad tour in Zagora, enjoy a great tour of the surroundings of the city. This full day Zagora quad excursion is perfect to visit the palm grove and the dunes. You will see many beautiful landscapes. At noon, you take a break for lunch in a nomadic camp.
It is also possible to plan a day excursion in Zagora with a half-day quad biking and a half-day camel tour. Enjoy different activities!
Contact us to enjoy personalized and tailor-made excursion.
Another desert experience to do without hestitate : a 4×4 day tour to Erg Chigaga from Zagora. In Erg Chigaga, you can also enjoy a quad tour!
Participants in a Zagora quad excursion must be at least 16 years old.

Participants under 16 must be accompanied.
The quad tour Zagora is available for beginners and experienced.

All our tours can be practiced by beginners and experienced.

You can do an individual quad tour or share the experience.
Quad biking tour Zagora: the duration is adapted to your wishes.

We provide the necessary equipment for the activity. You are accompanied by a professional guide who knows the surroundings very well.
You can opt for a day excursion in Zagora excursion, so you can enjoy a quad biking and a camel tour.

The camel ride is also very popular.
Quad in the Moroccan desert

The quad is also very popular in the great dunes of Erg Chigaga.

Also, you can enjoy a very amazing quad tour in Merzouga.
Contact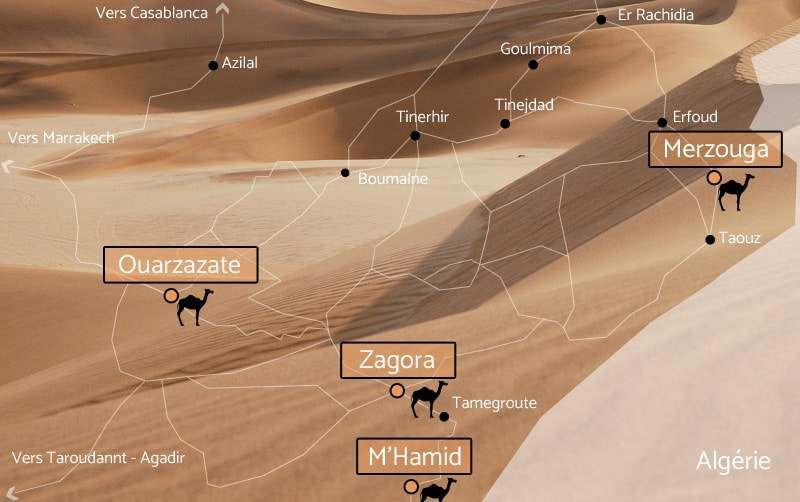 Our agency is located in M'hamid El Ghizlane, in Southern Morocco, Zagora province.
Pat: 47725024 RC 309/2809 No. IF 31832047
Message
We will be happy to answer your questions. Do not hesitate to contact us for any information related to your Morocco desert excursion tour. We will get back to you as soon as possible.
+33 628 568 405

contact@excursion-desert-maroc.com