Essaouira day trip
Marrakech day tour
Essaouira day trip
Essaouira day trip – Marrakech day tour – Day tour to Essaouira from Marrakech – Marrakech day trip
Essaouira is a fortified city located on the Atlantic coast, at about 2h30 hours drive from Marrakech. Also called "city of the trade winds" or "city of the winds", the city of Essaouira deserves to be visited for several reasons:
It is one of the most beautiful port cities in Morocco,
Essaouira is located in front of the ocean,
Its medina (old town) is a UNESCO World Heritage Site,
You can enjoy the lively life of the fishing port (in Essaouira the artisanal fishing is the most developed),
At noon, enjoy a good dish with fish,
Visit Place Moulay Hassan, art galleries, admire the works of painters,
Visit the city walls called "the Skala of the Kasbah",
Also visit a cooperative producing the famous argan oil,
You can also discover the Jewish quarter of Essaouira (the Mellah), the souk, …
After the visits during your Essaouira day trip, you will hit the road back to Marrakech. Your guide will take you to your hotel.
Other day tours are available from Marrakech: visit to the Ourika Valley or day trip to the Ouzoud Waterfalls.
Departure in the morning at 8.30 AM.

Distance between Marrakech and Essaouira: about 2h30 driving.
Essaouira is on the road of the argan trees from Marrakech.
In Morocco, argan is grown in northern Essaouira, between Tiznit and eastern Taroudant.
The fruits of the argan tree are often broken by hand by women in cooperatives in order to extract the kernel. It is the kernel that makes it possible to produce argan oil.
Contact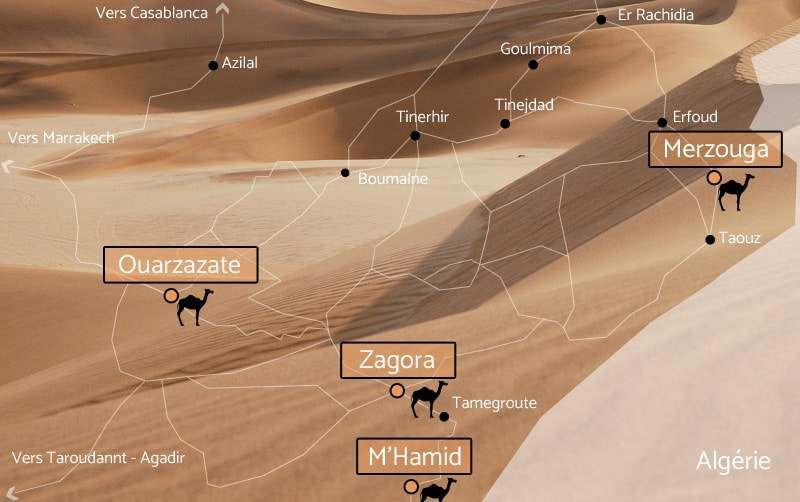 Our agency is located in M'hamid El Ghizlane, in Southern Morocco, Zagora province.
Pat: 47725024 RC 309/2809 No. IF 31832047
Message
We will be happy to answer your questions. Do not hesitate to contact us for any information related to your Morocco desert excursion tour. We will get back to you as soon as possible.
+33 628 568 405

contact@excursion-desert-maroc.com